SportsCare Physical Therapy – NE Portland began in 1999 in order to serve the Gateway, Parkrose, and East Portland communities. Since we opened our doors, we have strived to provide the highest quality care to our patients, taking the necessary time required to perform thorough evaluations and develop effective treatment plans to help our patients reach their recovery goals.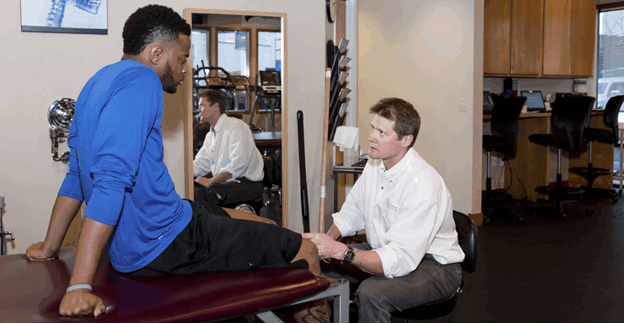 Our staff has remained consistent over the years, meaning not only do we enjoy our work as professionals, our work environment and co-workers, but our patient population as well. Stability within the clinic allows us to give continuity of care throughout the rehabilitation process, whether you are a first time or repeat patient. We take our work and your recovery very seriously, but also maintain a fun environment. We view our patients as the most important part of the team.
What Do We Treat
We treat all orthopedic injuries which includes the spine, shoulder, elbows, wrists, hips, knees and ankles. Whether it is rehabilitation following a joint replacement, or an acute injury that requires a mechanical assessment/evaluation, you can be confident our knowledgeable staff will be up to the task. It is known that the sooner you visit our therapists after injury, the quicker you will recover. With Direct Access to Physical Therapy, NE Portland SportsCare will minimize the gap between injury and treatment, allowing you to reach your goals faster!
Our therapists are trained in a variety of manual skills, including manipulation/mobilization, soft tissue mobilization, muscle energy and strain/counter strain. We also other advanced skills and techniques including mechanical traction/decompression and Blood Flow Restriction Therapy (BFR). Our gym is equipped with exercise bikes, treadmill, elliptical trainers, free-weight and cable equipment, and the kBox eccentric trainer to offer superior strength gains with minimal stress on the joints.
We are also equipped with cold compression systems, ultrasounds, lasers and electrical stimulation units to aid in recovery, tissue healing and edema reduction.
Our staff members include:
Joe Fricke, PT, Tony Rosatti, DPT, Kristin DeVoto, MPT, Jana Port, PTA and Doris Vrvilo, PTA
Please give us a call at 503.257.9881, visit us at www.sportscarept.net for more information, or request an appointment online.