What is Neck Pain?
Neck pain is quite common. It is often linked to injuries, overuse/overextension, skeletal issues, nerve problems or degenerative conditions. Neck pain may be short-lasting (i.e., after a night of uncomfortable sleep) or be more serious and require intervention to correct. Neck pain may be described as tingling, aching, burning, or stabbing; localized in the neck, or radiate to your head, shoulders, arms, and hands. Neck pain may also make the neck stiff, sore, or difficult to move. Fortunately, physical therapy is often a successful method of neck pain treatment.
Understanding Neck Anatomy
The neck consists of 7 bones that connect to 26 muscles, 6 ligaments, and numerous tendons. It supports the weight of the brain/skull, lends protection to the top of the spinal cord, and allows for all head movement. In addition to allowing motion, the neck contains multiple functions (the airway, digestive tract; lymphatic, neurological, and vascular systems) that are vital to survival. The neck is very flexible (and much less protected than the rest of the spine) making it especially vulnerable to injury.
Causes of Neck Pain
The neck holds up the entire weight of a person's head, which on average is about 8% of their total body weight. For every inch that we lean our heads forward, we increase the weight we feel on our necks by 10 pounds! This strain creates added stress and can result in neck pain. Whiplash is a sudden forceful neck strain, most often associated with car accidents. It causes the neck to "whip" quickly backward or sideways, and then forward. Common causes of neck pain include: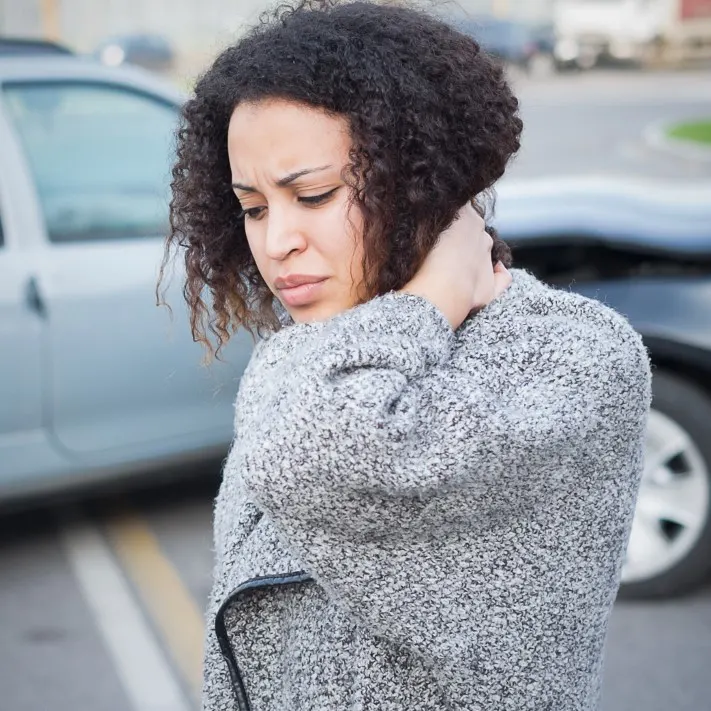 Neck Pain Conditions We Treat
SportsCare is able to provide neck pain treatment for a variety of neck conditions. You may need physical therapy for neck pain after an injury, surgery, as you age, or when stress/strain is routinely placed on your neck. SportsCare Physical Therapists routinely rehabilitate these common neck conditions:
Herniated disc
Cervical radiculopathy
Cervical spinal stenosis
Cervical spine fusion
Anterior cervical discectomy and fusion (ACDF)
Anterior cervical corpectomy and and fusion (ACCF)
Laminectomy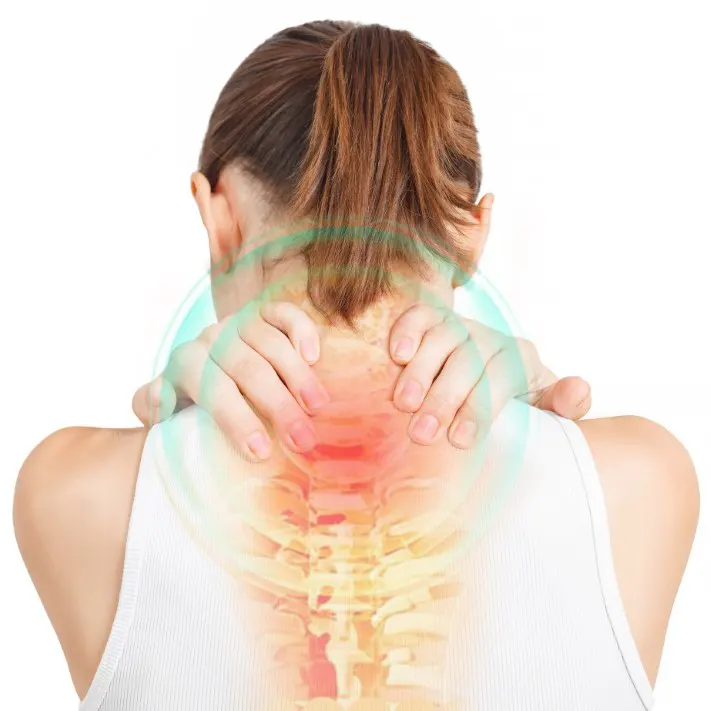 Neck Pain Treatment
At SportsCare, physical therapy for neck pain is not a one size fits all approach. At your first appointment, your physical therapist will perform a thorough professional evaluation of your injury or concern. After discussing your goals, activity level, and general health they will create a plan of care that is customized to your needs. Your neck pain treatment plan may include:
Manual Therapy
Therapeutic Exercises
Treatment and education to reduce inflammation
Education for injury prevention
Home Exercise Program
Extracorporeal shockwave therapy
Spinal Traction
Electrical stimulation, ultrasound, and cold/heat modalities
Kinesio Tape
Manipulation/mobilization
Posture training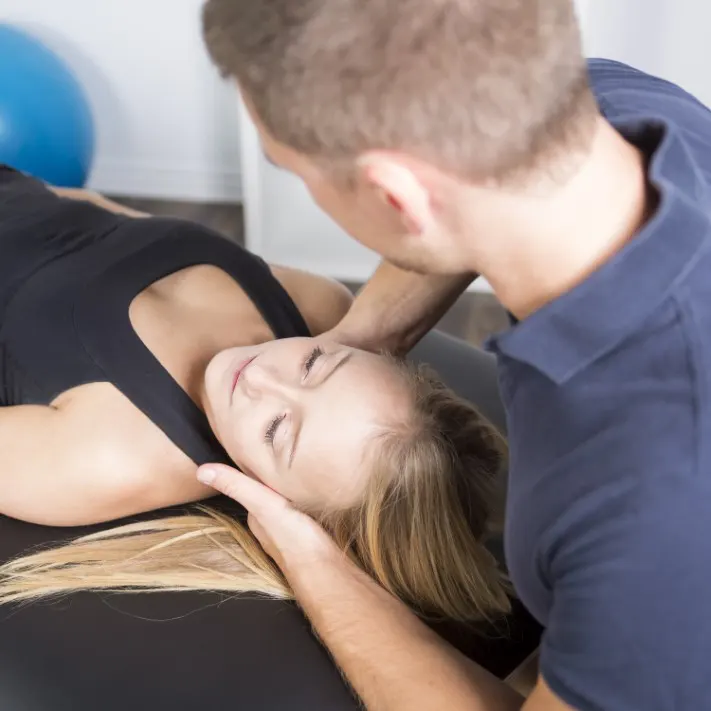 Frequently Asked Questions
How will my neck pain symptoms progress?

It depends. Chronic pain, or pain lasting longer than 3-6 months, may take several weeks of consistent PT to get your neck headed in the right direction.

When should I seek neck pain treatment?

If you have ongoing neck pain for more than a week or two and it is not resolving with over the counter pain medication or any self-treatment.

How long will neck pain treatment typically last?

Each PT appointment lasts 45 mins to an hour. Physical therapists perform a comprehensive evaluation and create a unique treatment plan for each patient. No two necks are alike!

When can I return to work after a neck injury?

This will depend on the type of labor your job requires. Sedentary types of work often do not require any limitations from said occupation. Occupations that require constant neck turning (such as a truck driver) may take a few weeks with light duty restrictions. Work status and limitations are specifically addressed by the work comp practitioner managing your case. Physical therapists provide the intervention for treatment and help the worker injury practitioners manage your case through a comprehensive evaluation.

When can I return to playing sports if I have neck pain?

You should be able to return to sports as soon as you can turn your neck in multiple positions and not experience neck pain, limitations, or headaches, and when/if you do not experience any other neurological symptoms.

How can I sleep with neck pain?

Try to position your neck in a neutral position. PTs can assist you and help you become aware of this position in person. You do not want your neck to be biased in any extreme direction for any long periods of time.

Does SportsCare take my insurance?

Here is a list of the insurance plans accepted by SportsCare Physical Therapy and Armworks Hand Therapy. If you are unsure of your coverage or if your plan is accepted, please contact one of our offices. We are happy to assist you in learning about your benefits.

Where is SportsCare Physical Therapy located?

SportsCare Physical Therapy has offices in Gresham, Sandy, NE Portland, Clackamas, Beaverton, and Salem. For location specific contact information click here.