What is Shockwave Therapy?
Shockwave therapy is a non-invasive outpatient procedure that uses radial pressure waves to create acoustic pulses which reduce pain and promote healing in injured ligaments, tendons, and other soft tissues. Sometimes referred to as extracorporeal shockwave therapy or radial shockwave therapy, it can be an effective alternative to surgery for many chronic conditions.
How Shockwave Therapy Works
Shockwave therapy is delivered through targeted contact with a hand-held device that allows acoustic waves to radiate up to two inches below your skin's surface. When these waves reach your injured tissues, they cause microscopic damage. This microtrauma triggers an acute inflammatory response–your body's instinctive physiological reaction to begin repairing itself. This promotes new cell growth, collagen production, and improved circulation. In addition to injury repair, shockwave treatment impulses break up calcification that may have built up around an injury and desensitize nerve endings to provide relief from pain.
Conditions Treated with
Shockwave Therapy
SportsCare Physical Therapists use extracorporeal shockwave therapy to treat a variety of ligament, tendon, and soft tissue injuries. These conditions include, but are not limited to:
Plantar fasciitis
Achilles tendonitis
Morton's neuroma
Retrocalcaneal buritis
Patellar tendonitis (jumper's knee)
Leg pain (strained calves/hamstrings)
Hip tendonitis/bursitis
Shoulder tendonitis
Calcific tendonitis
Rotator cuff injuries
Osteoarthritis in knees, hips, or shoulders
Stress fractures
Benefits of Shockwave Therapy
Shockwave therapy is unique in its ability to target specific, isolated injuries and pain sites that may otherwise be hard to treat. It stimulates the body's natural healing process to repair itself. Extracorporeal shockwave therapy provides:
Pain reduction
Increased blood and lymphatic circulation
Increased cell wall permeability (cellular metabolism)
Grow stimulation for new bone cells, blood vessels, and collagen/connective tissue
Stimulation of stem cells
Elimination of trigger points
Breakdown of calcium deposits in long standing cases of tendonitis (calcific tendonitis)
Increased mobility
Treatment for chronic inflammation
Shockwave Therapy Treatment
During your first appointment at SportsCare, you will first have a thorough, professional evaluation with your physical therapist. Together you will discuss your injury/condition, questions/concerns, and goals in rehabilitation. Your physical therapist may recommend incorporating extracorporeal shockwave therapy into your treatment plan. Using this method, you can expect:
Discussion with your physical therapist that you are an appropriate candidate
A comprehensive plan of care that includes additional treatment methods and routines (i.e., stretching, strengthening, manual therapy.)
During shockwave treatment you will be comfortably positioned and thin layer of gel will be applied to your affected body part to help conduct the energy transferring waves
Your physical therapist will use shockwave applicator head to slowly move over or around pain epicenter until appropriate dosage has been reached
Each shockwave treatment session lasts 3-5 minutes
Instructions from your physical therapist on aftercare precautions (limiting physical exercise for 48 hours, particularly those that target the treatment area)
Discussion with your physical therapist of possible mild short-term effects (if any) in days following shockwave treatment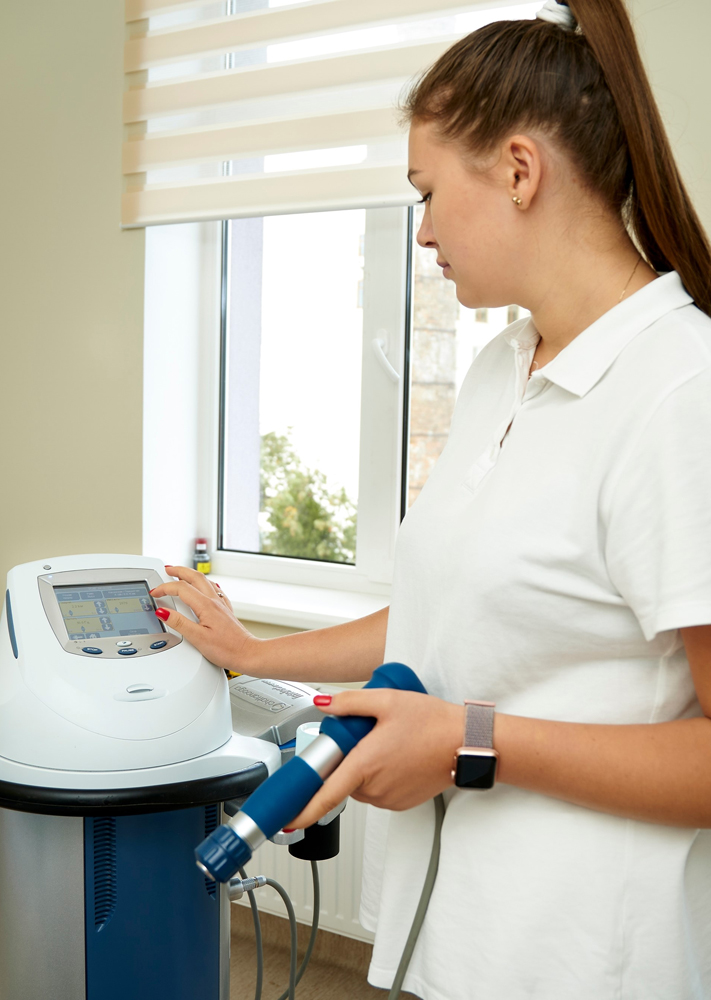 Frequently Asked Questions
Am I a candidate for shockwave therapy?

Shockwave therapy is an extremely safe and effective treatment method for most patients, but not every patient is a good candidate. There are a few instances when patients should NOT use shockwave therapy including when: they are under the age of 18, are pregnant, have certain heart/nerve conditions or wear a pacemaker. Patients should also avoid shockwave therapy if they have an open wound/infection at the treatment site or have received a steroid injection within the last six weeks. Your physical therapist will review your medical history and discuss if you are an appropriate candidate for shockwave therapy.

How long will each session of shockwave therapy last?

Each shockwave treatment session lasts around 3-5 minutes. Shockwave therapy takes minimal setup time and will be incorporated into your normal physical therapy appointment length, that generally lasts between 45 minutes to 1 hour in total.

How many treatments of shockwave therapy will I need?

Usually, 4-6 treatments of shockwave therapy will produce significant results. Depending on the extent of your injury and/or if you have multiple soft tissue injury sites, specific treatment timelines may vary from person to person. Your physical therapist will continually monitor your improvement and adjust your treatment plan appropriately to ensure your optimal recovery.

When will I feel the benefits of shockwave therapy?

This may vary from patient to patient. It may take 2-3 treatments before you are able to notice the benefits of shockwave therapy, while some patients feel immediate relief after their first treatment session. It is also common to notice benefits that may only be temporary at the beginning, but that become longer lasting after a few treatments.

How do I prepare for shockwave therapy?

No special preparation is needed for shockwave therapy, but patients should wear comfortable clothing that allows your physical therapist to access the area being treated.

What do I need to avoid when attending shockwave therapy?

If you bruise easily or are on blood thinners, notify your therapist so adjustments in pressure can be made. It is also important to let your physical therapist know if you have had any changes in your medical history since your last physical therapy appointment.

Does SportsCare take my insurance?

Here is a list of the insurance plans accepted by SportsCare Physical Therapy and Armworks Hand Therapy. If you are unsure of your coverage or if your plan is accepted, please contact one of our offices. We are happy to assist you in learning about your benefits.

Where is SportsCare Physical Therapy located?

SportsCare Physical Therapy has offices in Gresham, Sandy, NE Portland, Clackamas, Beaverton, and Salem. For location specific contact information click here.