What is Running Therapy?
Running therapy is physical therapy that is tailored to the specific needs of runners. Running therapy provides rehabilitation for acute and chronic running injuries, assessment/correction of running form, and training to achieve desired running goals. Running Therapy can be effective for runners of all ages and ability levels: novice/beginners, professionals, those preparing for a race, or former runners wanting to safely return to the sport/pastime.
Running Health and Wellness
Running is amongst the simplest forms of exercise as it does not require any special equipment and can be done almost anywhere. Running can help improve your physical, mental, and emotional health. Studies have shown it may help decrease your chances of developing obesity, type-2 diabetes, heart disease, stroke, high blood pressure, and some cancers. While the health benefits are tremendous, running can also come with unique challenges. SportsCare provides running therapy to runners of all kinds. Our PT's are dedicated to helping runners recover from injuries and perform at their full potential.
Common Running Injuries
Runners are prone to injuries. These injuries may be due to training errors, abnormal gait mechanics, muscle imbalances, joint mobility issues, or improper shoe wear. SportsCare Physical Therapists work with runners of all abilities and regularly treat these common running injuries:
Plantar fasciitis
Achilles tendonitis
Stress fractures
Infrapatellar pain syndrome (Runner's knee)
Iliotibial band friction syndrome
Hip bursitis
Sacral Pain
Low back pain
Shin splints
Benefits of Running Therapy
SportsCare Physical Therapists use running therapy to rehabilitate running related injuries, address running form, and improve performance. It can be useful for runners of all ages, abilities, and experience, competition levels. Running physical therapy at SportsCare offers numerous benefits to runners, including:
Recovery from new/ongoing running injuries
Correction of improper running form/gait mechanics
Training to increase running speed, agility and endurance
Improvement of range of motion and flexibility
Discussion on properly fitting running shoe wear
Progressive, individualized training plan to meet short-term and long-term performance goals
Education for running injury prevention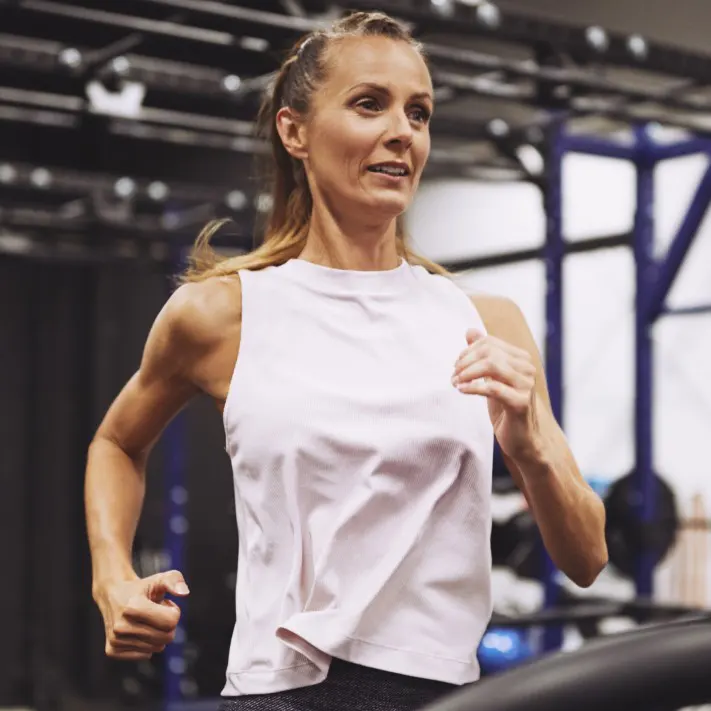 Running Therapy Treatment
SportsCare Physical Therapy sees each patient as an individual with unique needs. Listening to your areas of concern, your physical therapist will discuss your running frequency, running performance goals, and general health. Your physical therapist will perform a professional evaluation (including assessing your running injury or running mechanics as needed) and then develop a personalized treatment/training program, designed just for you. At SportsCare, your running therapy plan may include:
Manual Therapy
Therapeutic Exercises
Treatment and education to reduce inflammation
Training recommendations for injury prevention
Home Exercise Program
Extracorporeal shockwave therapy
Traction
Intermittent Compression with Cold (Game Ready and Normatec)
Electrical stimulation, ultrasound, and cold/heat modalities
Kinesio Tape
Joint Mobilization/Stabilization
Balance/Gait Training
Whirlpool
Treadmill running analysis and gait assessment
Running Therapy is offered here:
Frequently Asked Questions
When should I seek treatment for running injuries?

If you experience a running injury, you can use the R.I.C.E (rest, ice, compression, and elevation method). For many minor running injuries, this may be all that is needed to recover. If you have tried this using R.I.C.E. and continue to have pain that does not resolve after a week, you may want to consider attending running therapy for your injury.

How long will running therapy typically last?

At SportsCare, running therapy sessions are similar in length to traditional physical therapy appointments and typically last about an hour each. The total number of running therapy sessions you will need may vary from patient to patient, depending on your particular injury or training needs. Your physical therapist can discuss your running therapy timeline at your initial evaluation and give you updates on modifications to your plan as you progress/improve in therapy.

When can I begin running after a running injury?

When you can return to running after an injury is dependent on the type and severity of your injury but can be discussed with your physical therapist as you recover. By and large, as your running injury symptoms resolve, your physical therapist can help you ease back into a safe running program.

Does SportsCare take my insurance?

Here is a list of the insurance plans accepted by SportsCare Physical Therapy and Armworks Hand Therapy. If you are unsure of your coverage or if your plan is accepted, please contact one of our offices. We are happy to assist you in learning about your benefits.

Where is SportsCare Physical Therapy located?

SportsCare Physical Therapy has offices in Gresham, Sandy, NE Portland, Clackamas, Beaverton. For location specific contact information click here.