What is Aquatic Pool Therapy?
Aquatic pool therapy (also known as pool therapy or aqua therapy) is similar to traditional physical therapy, but instead of on land it takes place in the comfort of a warm pool. The unique properties of water reduce the effects of gravity and increase a person's range of motion. In the water, our bodies become buoyant, putting less stress on the muscles, joints, and bones. When fully inside a pool, up to 90% of a person's body weight is supported by water. The patient is warm, comfortable, and able to move freely. This creates an optimal environment for both injury rehabilitation and exercise.
Why Choose Aquatic Pool Therapy?
The pool allows patients to progressively increase the amount of weight they bear on a given area. Targeted muscles are gradually engaged with control and intention. In addition to injury recovery, aquatic therapy can also be beneficial to patients with balance/posture issues and athletes who want to train in a controlled environment. SportsCare Physical Therapy proudly offers aquatic pool therapy at its Sandy clinic location.
Uses for Aquatic Pool Therapy
Aqua therapy is a relaxing, effective way to rehabilitate injuries. It is also successful in treating acute and chronic issues, improving physical fitness, and training athletes. Aquatic pool therapy is used to for: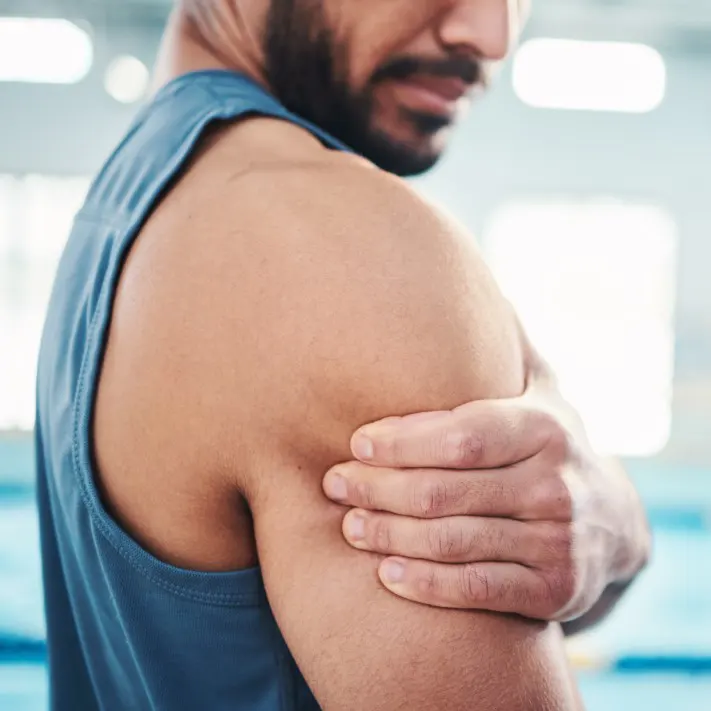 Benefits of Aquatic Pool Therapy
Aquatic pool therapy provides patients numerous benefits including injury recovery, improvement of daily function, and greater health/wellness. Aqua therapy allows for:
Improved balance/coordination
Increased core/muscle strength
Increased circulation
Gradual weight bearing on a given area
Increased of range of motion and flexibility
Reduction in pain
Water provides resistance, along with support, so there is minimal risk of falling
What to Expect at Pool Therapy
Your first appointment at Sandy SportsCare will consist of an evaluation with a licensed physical therapist. Your PT will assess your injury/concern and together you will discuss your general health, activity level, and goals for rehabilitation. Your physical therapist will then develop an individualized plan of care suited to your specific needs. They may find that you are a good candidate for pool therapy and recommend incorporating it into your recovery program. Aquatic pool therapy can be used in tandem with other physical therapy methods and techniques. During aqua therapy at SportsCare you can expect:
Dedicated, individual pool appointments
Warm water pool, in spacious private room
Private restroom and changing area
Steps and handrails for accessibility
Use of water resistance pool weights (when appropriate)
Personalized treatment plan tailored to your injury and recovery goals
Plan of care modifications as injury improves
Training recommendations for injury prevention
Home Exercise Program
Frequently Asked Questions
Am I a good candidate for aquatic pool therapy?

Aquatic pool therapy can be used for many patients, though is ideal for those who have difficulty with bearing weight due to their injury or pain with traditional land-based therapy. Most exercises and activities can be adapted for the pool to work on the same muscles with decreased weight bearing and a more supportive environment.

How will aquatic pool therapy help my injury?

Water provides resistance in all directions of movement and is a great way to address core strength and balance. It allows patients to move for longer with less pain, work on building endurance and overall strength. Also, being able to work on walking, running, and jumping without the fear of falling and having less impact on the joints to build confidence to return to those activities on land.

How long will aquatic pool therapy typically last?

Aquatic pool therapy focuses on improving your tolerance to activity and building strength and endurance to be able to improve your land-based activity. Generally aqua therapy will be several weeks, with the intention to transition to an independent aqua therapy program or return to land based therapy.

What do I need to bring to aquatic pool therapy?

Swimsuit/clothing that you feel comfortable getting into the pool with. Aqua Socks or water shoes to help with grip in the pool or changing rooms if you feel this is needed. There are showers and towels available in the clinic.

Does SportsCare take my insurance?

Here is a list of the insurance plans accepted by SportsCare Physical Therapy and Armworks Hand Therapy. If you are unsure of your coverage or if your plan is accepted, please contact one of our offices. We are happy to assist you in learning about your benefits.

Where is SportsCare Physical Therapy located?

SportsCare Physical Therapy has offices in Gresham, Sandy, NE Portland, Clackamas, Beaverton, and Salem. For location specific contact information click here.