What is the AlterG Treadmill?
The AlterG Anti-Gravity Treadmill is a NASA designed anti-gravity device that allows patients and athletes to walk, jog, and run with reduced stress and impact. Using patented technology to control "differential air pressure," the AlterG is able to support up to 80% of a person's body weight. This allows patients to safely begin recovery sooner after an accident or surgery as well as the ability to slowly build to bearing more body weight as they progress through physical therapy.
How the AlterG Treadmill Works
The AlterG Treadmill system performs unloading (unweighting the body), and it also incorporates progressive loading to gradually allow the body to bear more weight on its own. By counteracting the effects of gravity, the AlterG Anti-Gravity Treadmill puts less stress on your bones, joints, and muscles. This lets you move farther and faster without pain, restriction, or fatigue. Patients find that with the AlterG Treadmill, physical therapy is (even more of!) an effective and rewarding experience.
Uses for the AlterG Treadmill
Offered at our Gresham SportsCare Physical Therapy location, the AlterG Anti Gravity Treadmill is used to by both patients and athletes alike. It is an effective method to treat injuries, rehabilitate orthopedic surgeries, and address balance concerns. Specific conditions that may benefit from using the AlterG Treadmill in physical therapy include, but are not limited to:
Plantar fasciitis
Achilles tendonitis/repair
Ankle or calf sprains/strains
Shin splints
Hamstring or quadriceps strains
ACL + PCL sprain/reconstruction
Iliotibial band syndrome
Patellar tendonitis
Chronic patellofemoral pain
Stress fractures
Balance/posture issues
Gait dysfunction
Athletic training optimization
Benefits of the AlterG Treadmill
The AlterG Anti-Gravity Treadmill uses a calibrated pressure chamber to counteract gravitational forces and make you feel "weightless." This specialized environment reduces impact, pain, and recovery time. This innovative physical therapy treadmill allows you to:
Begin recovery (sooner) after an injury or surgery
Improve of range of motion and flexibility
Have unrestricted lower body movement
Enhance cardiovascular conditioning
Run without discomfort or pain
Have an adaptable, personalized treatment plan (Your physical therapist can adjust the treadmill system to support more/less weight bearing.)
Improve strength and endurance
Burn more calories by going farther or faster
Feel comfortable and safe, without the fear of falling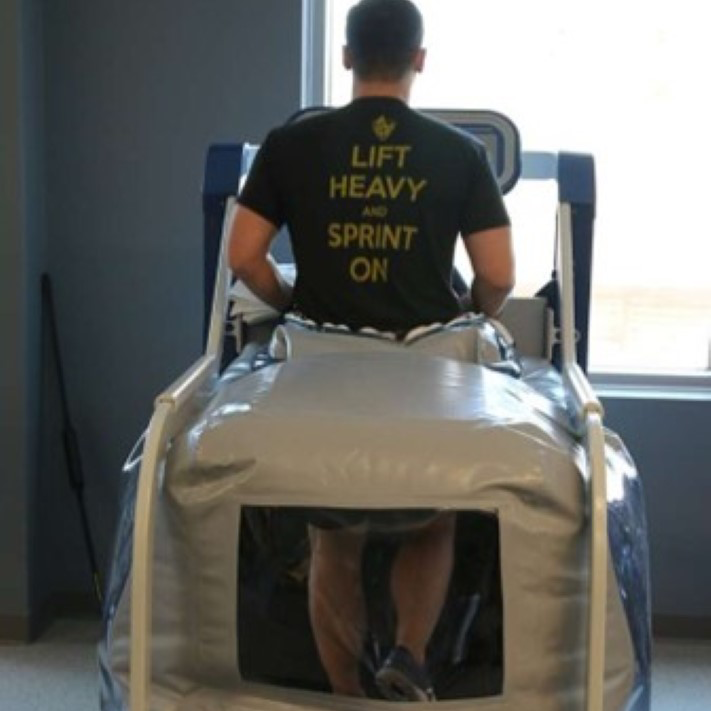 AlterG Treadmill Treatment
SportsCare Physical Therapy sees each patient as an individual with unique needs and concerns. Your first appointment at SportsCare will include a professional evaluation with a licensed physical therapist. Together, you will discuss your injury/condition, general health, and rehabilitation goals. Based on your specific needs, your PT will create an achievable personalized treatment program. They may recommend using the AlterG Treadmill, physical therapy techniques, along with other proven recovery methods. Your plan of care may include:
Manual Therapy
Therapeutic Exercises
Treatment and education to reduce inflammation
Education/training recommendations for injury prevention
Home Exercise Program
Intermittent Compression with Cold (Game Ready and Normatec)
Traction
Electrical stimulation, ultrasound, and cold/heat modalities
Kinesio Tape
Joint Mobilization/Stabilization
Core strengthening
Treadmill running analysis and gait assessment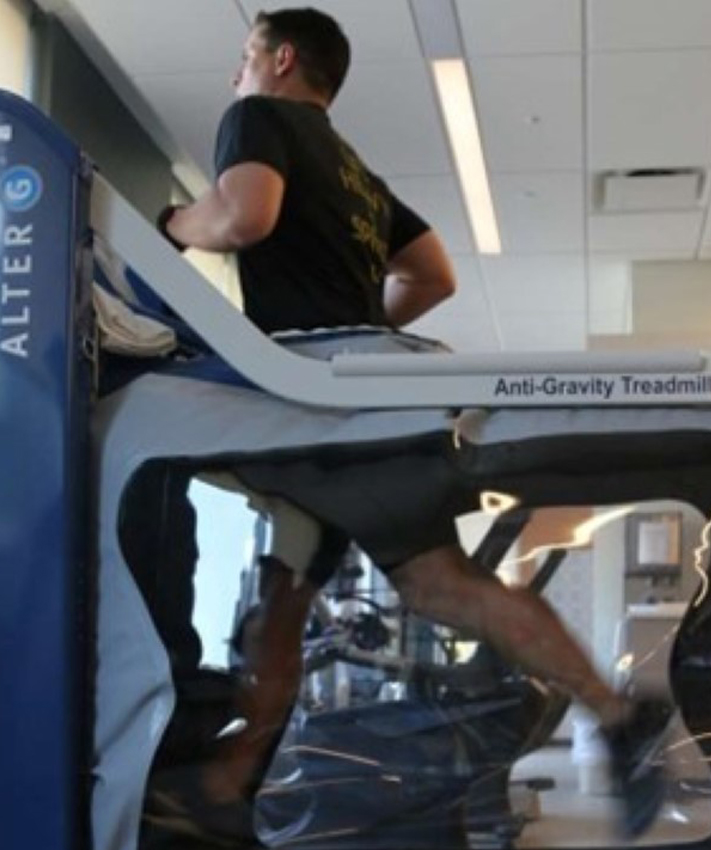 Frequently Asked Questions
Am I a candidate for the AlterG Anti-Gravity Treadmill?

Anyone with an ankle, calf, leg, knee, or hip issue is a potential AlterG Anti Gravity Treadmill candidate…even if you have had surgery! The AlterG allows you to begin walking, jogging, or running earlier in your rehabilitation because your PT can decrease the stress on your body to accommodate your injury. Early weight bearing will speed your recovery and get you back to full activity sooner!

How long is each session on the AlterG Anti-Gravity Treadmill?

AlterG sessions are tailored to your injury status and needs. Sessions can be as short as 5 minutes or as long as 60 minutes. If you are early in your recovery, shorter sessions are best. If you are an elite athlete suffering from mild tendinitis, then you may be able to train for up to 60 minutes. Your PT will discuss what is appropriate for you after assessing your injury or condition at your evaluation.

How long will my recovery take if I use the Alter G Anti-Gravity Treadmill?

While exact recovery times will vary from patient to patient, being able to walk, jog or run earlier in your healing phase has the ability to shorten your recovery by days or weeks. This can give you an edge on your competitors or allow you to get back sooner to the activities you love most.

Does SportsCare take my insurance?

Here is a list of the insurance plans accepted by SportsCare Physical Therapy and Armworks Hand Therapy. If you are unsure of your coverage or if your plan is accepted, please contact one of our offices. We are happy to assist you in learning about your benefits.

Where is SportsCare Physical Therapy located?

SportsCare Physical Therapy has offices in Gresham, Sandy, NE Portland, Clackamas, Beaverton, and Salem. For location specific contact information click here.