What is an Unweighted Treadmill System?
An unweighted treadmill system uses a harness to partially suspend a patient's body weight above a traditional treadmill. Without the full force of gravity pulling them down, there is much less strain placed on the body's muscles, joints, and bones. The patient feels the safety of the harness, making it easier to move through their rehabilitation process with ease and confidence. Patients who have recently had lower extremity surgery or have issues with balance are great candidates for unweighted treadmill training. Since there is almost no risk of falling, the patient can concentrate on recovery rather than the fear of slipping or tumbling.
Why use an Unweighted Treadmill System?
With the support of a harness, the patient experiences little or no pain when walking would otherwise be difficult. Patients are able to dedicate their time and focus on using correct form, while building up their endurance, strength, and balance. Patients gain better control of their movements and see recovery results sooner. An unweighted treadmill system can be used for athletic speed and agility training. In addition, it provides spinal decompression to relieve sciatica.
Conditions Treated with an Unweighted Treadmill System
SportsCare Physical Therapists are highly trained on the proper use of their unweighted treadmill system. Currently offered at the Beaverton SportsCare location, this system provides an effective, safe, and comfortable rehabilitation experience. Specific conditions that may benefit from unweighted treadmill training include, but are not limited to:
Total ankle/knee/hip replacements
ACL surgery
Meniscus surgery (repair or meniscectomy)
Ankle/knee/hip strengthening/correction
Knee and ankle pain
Disc Herniations
Lumbar stenosis
Lumbar radiculopathy/sciatica
Degenerative joint disease
Concussion
Osteoarthritis of hip or knee
Osteoporosis and Osteopenia
CRPS Type 1 & 2
Neurological conditions
Stroke
Drop foot
Low back pain
Balance issues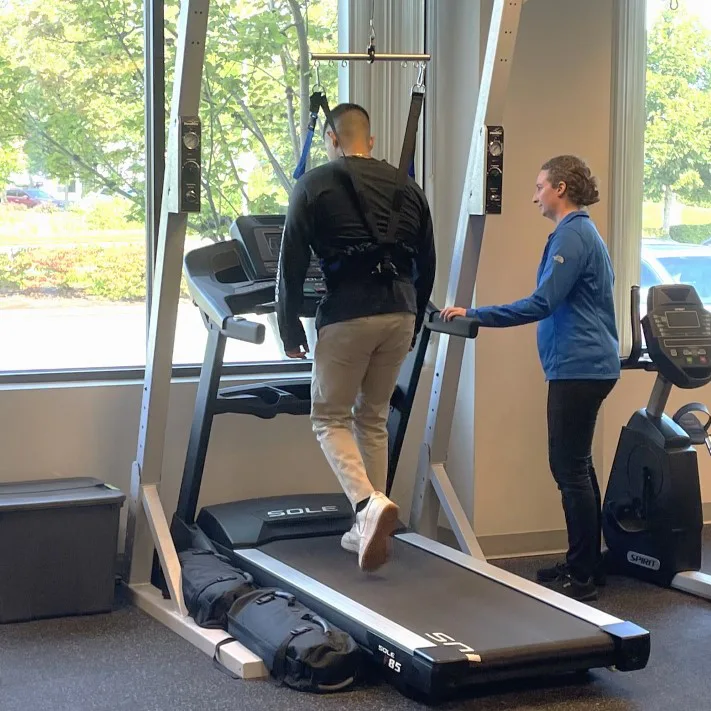 Benefits of an Unweighted Treadmill System
An unweighted treadmill system can greatly benefit patients experiencing a wide variety of conditions, including those who are healing from surgery or recovering from an injury. Patients are able to slowly work up to bearing more weight on their lower extremities, like walking in a pool but without having to get in the water. The affected muscles are gradually engaged with control and intention. This creates an ideal environment to maximize results and prevent reinjury. The advantages of an unweighted treadmill system include:
Pain-free movement with unrestricted 360-degree rotation
Support of up to 100% of the patient's weight, while allowing your physical therapist to make fine-tuned adjustments for progressive weight-bearing
Support for static and dynamic balance training
Early recovery of normal gait pattern and speed
Increased range of motion
Improved posture
Protection for sensitive healing tissue
Promotion of task specific training
Limited downtime by training throughinjuries
Decreased fall risk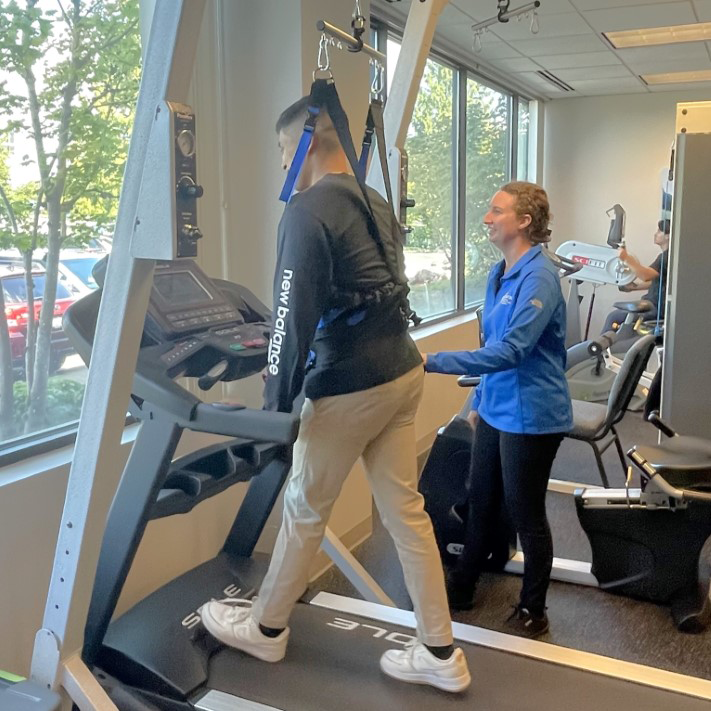 What to Expect Using an Unweighted Treadmill System
SportsCare Physical Therapy takes pride in delivering the highest level of quality patient care. Your first appointment at SportsCare will include a professional evaluation with a licensed physical therapist. This appointment will include an assessment of your injury/condition, as well as time to answer your questions and discuss your rehabilitation goals. Your therapist will develop a personalized treatment plan just for you. If appropriate, they may recommend incorporating the unweighted treadmill system into your plan of care. Using this method at SportsCare, you can expect:
Discussion with your physical therapist that you are an appropriate candidate for this system
A comprehensive plan of care that includes additional applicable treatment methods and routines (i.e., instructions to reduce inflammation, modalities and manual therapy)
Instructions/assistance to properly wear supportive treadmill harness
Discussion of recommended session length using unweighted treadmill system (varies with each patient and throughout the duration of physical therapy treatment)
Incremental progressive stages to safely reduce weight-bearing support
Scheduled progress reports to assess functional improvement
Specific recommendations of at home exercises or stretches (if safe and suitable for the patient and their condition)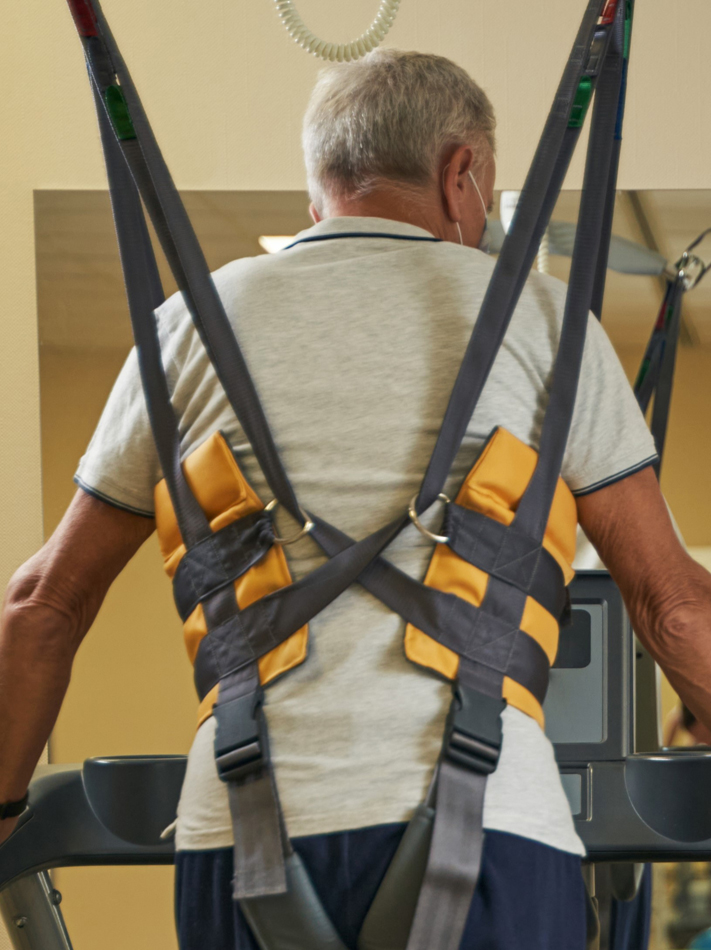 Frequently Asked Questions
Am I a candidate for the unweighted treadmill system?

You are likely a candidate for unweighted treadmill training if you are looking to improve your balance, or to begin early weight bearing and walking following a lower extremity surgery. There are many other conditions for which the system may be effective, and your physical therapist will perform a thorough evaluation to determine which methods would benefit you the most.

Will I use unweighted treadmill training at every physical therapy session?

It depends. The recommended treatment plan varies greatly from patient to patient, depending on their injury or condition. An unweighted treadmill system is extremely beneficial at the beginning of recovery for patients rehabbing an acute injury or healing from surgery. As these patients continually strengthen those affected areas and progress through their PT program, they may be better suited to incorporate additional/other exercises and routines. Patients with other issues may benefit from using the unweighted treadmill system over a longer period of time. Your physical therapist will discuss the best plan of care that is recommended for your individual needs.

How long is each session on the unweighted treadmill?

Training on an unweighted treadmill system may last anywhere from 2 minutes to 60 minutes, depending on your goals and current condition. It is only performed in comfortable methods and durations.

Does SportsCare take my insurance?

Here is a list of the insurance plans accepted by SportsCare Physical Therapy and Armworks Hand Therapy. If you are unsure of your coverage or if your plan is accepted, please contact one of our offices. We are happy to assist you in learning about your benefits.

Where is SportsCare Physical Therapy located?

SportsCare Physical Therapy has offices in Gresham, Sandy, NE Portland, Clackamas, Beaverton, and Salem. For location specific contact information click here.