What is Blood Flow Restriction Training?
Blood flow restriction training, or BFR, is a proven, safe, and effective system used by qualified medical professionals to achieve the results of heavy load strength training, but with lighter weights at lower intensities. By safely and temporarily limiting (but not completely stopping) the incoming/outgoing blood flow to/from a specific area, the body gets tricked into thinking it is working harder than it really is. Also known as blood flow restriction therapy and restrictive blood flow training, BFR helps build muscle mass, strength, function, and aerobic endurance efficiently. It puts less strain on tissues and joints than traditional strength training, speeds up injury recovery, and prevents muscle soreness.
How Blood Flow Restriction Training Works
By placing a specialized blood flow restriction training pressure cuff (similar to a blood pressure cuff) on your upper arm or upper leg, your physical therapist can closely monitor your restricted blood flow. This process temporarily limits the amount of low-oxygen blood from entering and leaving those targeted muscles. The use of blood flow restriction training in tandem with light load weight lifting, sends those muscles into a state of hypertrophy. Hypertrophy is the body's natural process to build muscle strength and mass but is usually only attainable from heavy/high intensity strength training.
Conditions Treated with BFR
Blood flow restriction training (BFR) is an effective way to strengthen muscles and repair damaged tissues. It is used to rehabilitate injuries, promote recovery after orthopedic surgeries, and as a method of athletic training/conditioning. Injuries and concerns treated with blood flow restriction therapy include, but are not limited to:
Knee arthritis
Patellofemoral pain (chondromalacia patella, anterior knee pain, runner's knee)
Meniscus tears, repairs or meniscectomy
ACL reconstruction
Total knee replacement
Chondroplasty
After receiving knee injections
Achilles tendonitis/ankle injuries
Ligament sprain with or without surgery
Rotator cuff injuries
Hamstring, hip, and thigh muscle injuries
Athletic training/conditioning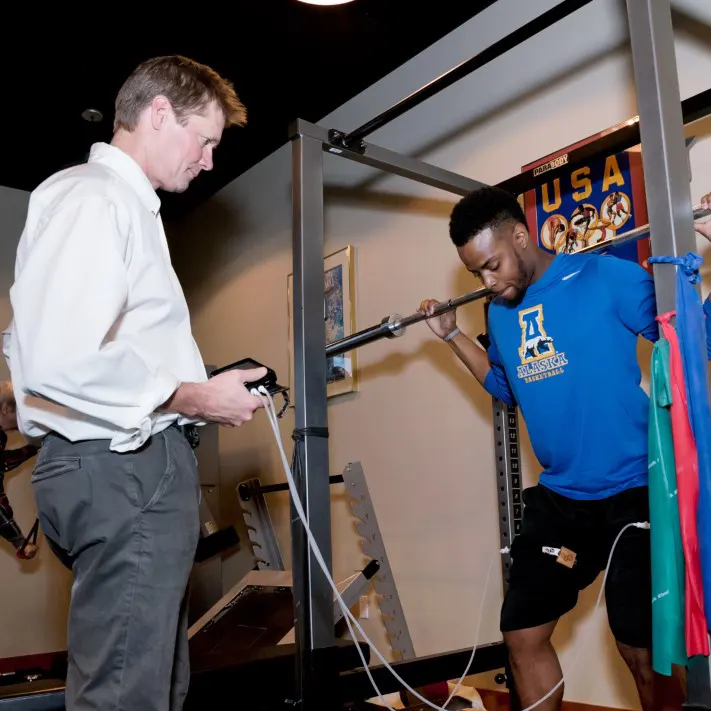 Benefits of BFR Training
Blood flow restriction training (BFR) is also sometimes referred to as blood flood restriction therapy, blood flow occlusion, tourniquet training, blood flow modulation, or Kaatsu training. Blood flow restriction therapy may be used to help individuals:
Gain muscle
Less stress on tendons, ligaments, and joints when lifting
Return to function after surgery
Rehab/train comfortably with arthritis or a cartilage/joint injury
Prepare for sport quickly with preseason conditioning
Prevent muscle atrophy (muscle loss)
Gain strength
Improve aerobic capacity (VO2max) and endurance
Develop new, healthier blood vessels
Improve bone density
Decrease risk of cardiovascular disease
Reduce risk of high blood pressure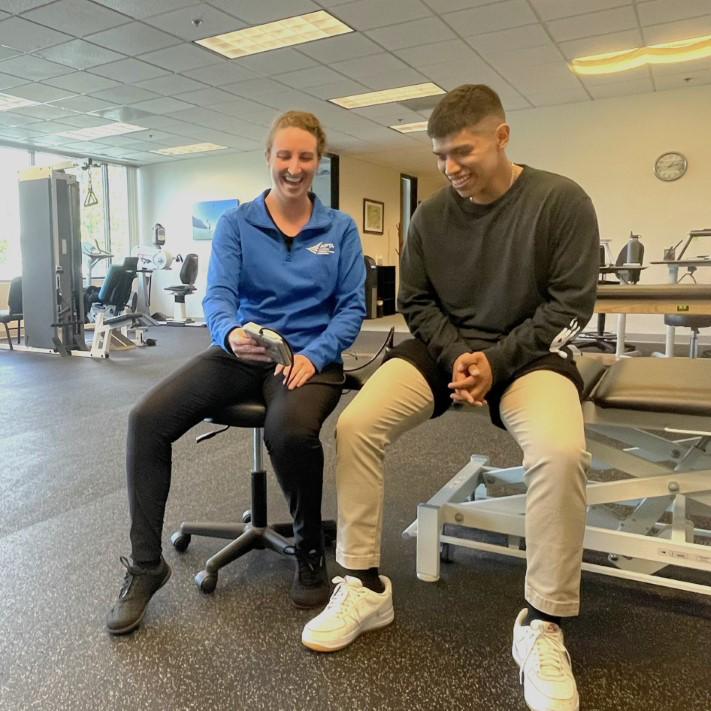 What to Expect with Blood Flow Restriction (BFR) Training
SportsCare Physical Therapy sees each patient as an individual with unique needs. At your first appointment you will have a thorough, professional evaluation with a licensed physical therapist. Together, you will discuss your injuries/conditions, rehabilitation goals, and general health. Your physical therapist will develop a personalized treatment plan just for you, and if appropriate, they may recommend incorporating the use of blood flow restriction training. Your plan of care may also include:
Manual Therapy
Therapeutic Exercises
Education for injury prevention
Home Exercise Program
Extracorporeal shockwave therapy
Traction
Intermittent Compression with Cold (Game Ready and Normatec)
Electrical stimulation, ultrasound, andcold/heat modalities
Kinesio Tape
Joint Mobilization/Stabilization
Treadmill running analysis and gait assessment
Core strengthening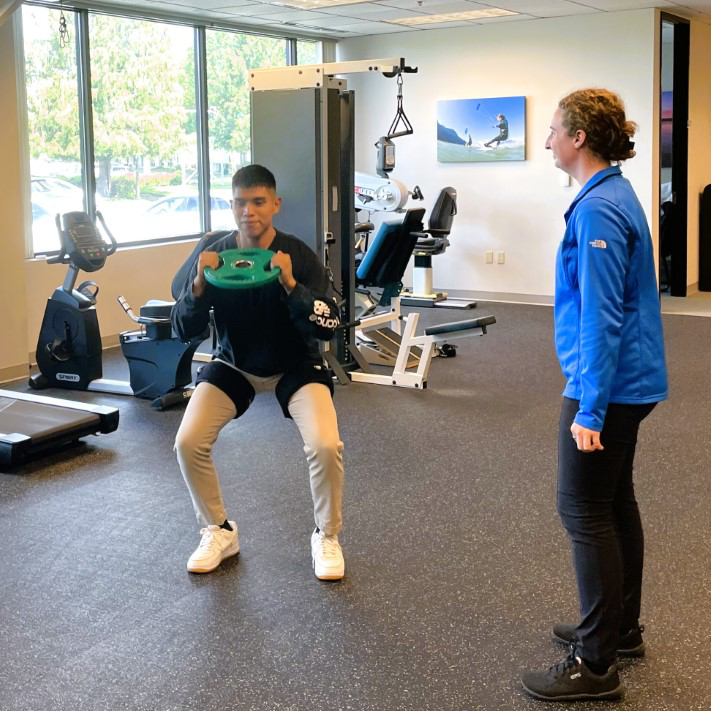 Frequently Asked Questions
Does blood flow restriction training really work?

We have found that blood flow restriction training increased muscle size in the shoulders, chest, and arms better than conventional training when done with the same volume. Blood flow restriction training causes a release of your body's human growth-hormone (HGH) from the pituitary gland. HGH causes growth of muscle, bone, and nearly every cell of the body, and it enhances fat loss.

Is blood flow restriction training safe?

It is important to understand that BFR training does NOT stop blood flow to the limb. Using pneumatic tourniquet-like cuffs placed at either the closest part of the leg or closest part of the arm, individually calculated pressure is applied to the cuff that limits the amount of blood flow returning from the limb. Doppler ultrasound is used to ensure fresh arterial blood and oxygen is still entering the limb. By restricting the venous blood from leaving the limb, muscle tissue is stimulated by an increased concentration of metabolic growth factors.

Who is a candidate for blood flow restriction training?

Most patients are candidates for blood flow restriction training. Patients between the ages of 18-50 are typically the target age group for BFR.

Who is not a candidate for blood flow restriction training?

Patients with poor circulation that have conditions such as diabetes, deep vein thrombosis, hypertension, and skin infections are not appropriate candidates for BFR training.

How long will each session of blood flow restriction training typically last?

Blood Flow Restriction Training sessions typically last anywhere from 20-45 minutes. The time will vary based on the intensity of the workout routine.

Will blood flow restriction training be used at every appointment?

How frequently blood flow restriction therapy is incorporated into your treatment plan is done on a case-by-case basis. Your physical therapist will discuss how often BFR training is best suited for your recovery or training program.

What is the history of Blood Flow Restriction Training?

Blood Flow Restriction Training is a relatively new therapy tool. Its early stages began when the United States Military and NASA were researching methods to preserve muscle mass in wounded soldiers to avoid amputation and to maintain muscle mass and fitness in astronauts affected by low gravity in space. With promising evidence and results, BFR has begun to spread to the worlds of rehabilitation and performance. Blood flow restriction training is known as one of the most exciting developments in physical therapy and professional sports training.

Does SportsCare take my insurance?

Here is a list of the insurance plans accepted by SportsCare Physical Therapy and Armworks Hand Therapy. If you are unsure of your coverage or if your plan is accepted, please contact one of our offices. We are happy to assist you in learning about your benefits.

Where is SportsCare Physical Therapy located?

SportsCare Physical Therapy has offices in Gresham, Sandy, NE Portland, Clackamas, Beaverton, and Salem. For location specific contact information click here.