NE Portland SportsCare Physical Therapy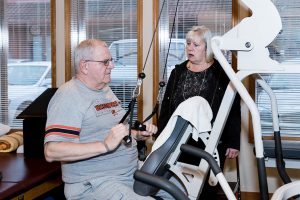 NE Portland SportsCare Physical Therapy opened in 1999 by Joe Fricke, PT and George Eischen, PT.  Our focus is providing exceptional care with the latest techniques and equipment, without the constraints of limited time with patients, often found at larger organizations.We are conveniently located at 107th and Halsey, and have served the Gateway, Parkrose, NE and SE Portland neighborhoods and schools for nearly 20 years.  Our location is also convenient for Vancouver residents due to easy access from 205 and I-84.Parking is exceptional, with all spots next to our building, meaning minimal walking distance from car to door.  We offer covered bicycle parking for those who choose to commute by bicycle.

Most of our therapy staff has worked together even prior to the start of NE Portland SportsCare Physical Therapy, so our communication and the way we work together is tried and true.  We strengthened our staff by adding another excellent therapist, Tony Rosatti, DPT, in 2016.
We all share the same philosophy of placing our patient's care as our primary interest, and designing our treatments according to what is best to you and how to achieve your goals.  From modalities for pain control, manual therapy to improve joint and soft tissue mobility and function, advanced training techniques including BFR/Kaatsu to significantly strengthen musculature while protecting joints, Bike Fitting to traction/decompression tables, we have your goals and best interests in mind.
Communication and a team approach is given the highest priority with all SportsCare locations. SportsCare Physical Therapy in NE Portland will communicate with all of your providers as needed, or as directed by you so we are all on the same page regarding your recovery.  Whether your injury is from a motor vehicle accident, work injury, sports injury, or is overuse or degenerative in nature, we have the tools and the caring attitude to help you recover.
Please give us a call today and begin your road to recovery and feeling better.