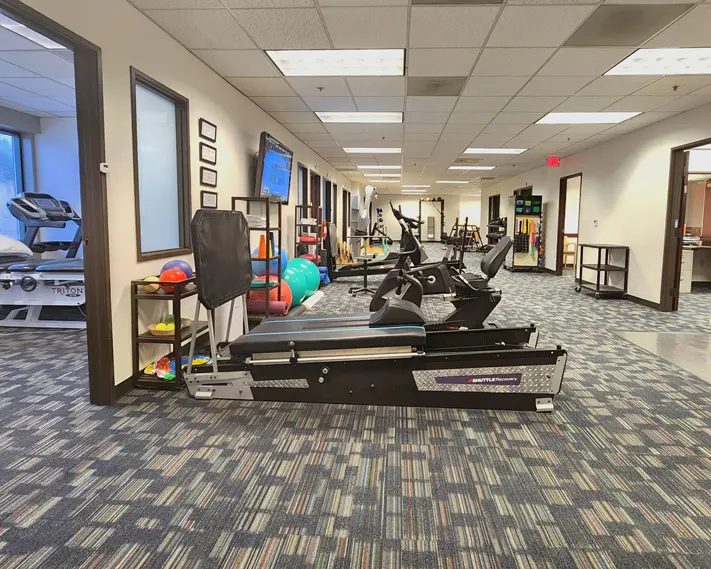 About Us
Clackamas SportsCare Physical Therapy is a therapist owned private practice PT clinic. We help patients return to work, sports, and everyday activities as soon as safely possible, using innovative techniques and providing high-quality, patient-focused care. Our treatment approach is simple: one-on-one appointments with Doctors of Physical Therapy. This allows you to receive the education, experience, and hands-on treatment you need to reach your recovery goals.
Our SportsCare Physical Therapy Clackamas clinic opened in 2009, an additional location for SportsCare, which was first established in 1963. As a trusted provider in the local community for decades, SportsCare has developed and maintained a stellar reputation from local doctors, surgeons, and patients. We are known for helping patients achieve successful outcomes while providing a fun and rewarding experience.
SportsCare Physical Therapy Clackamas is located at the corner of Sunnyside and Stevens Road, inside the Three Town Center Building. We are just off I-205, across from the Kaiser Permanente Hospital and near the Clackamas Town Center. Our clinic sees patients from Clackamas, Happy Valley, and SE Portland, as well as West Linn, Gladstone, Milwaukie, Oregon City, and Damascus. Our spacious parking lot is located directly next to our clinic and offers multiple handicap parking spaces.
Contact Us
Hours vary by location. Click here for hours

Our Location
Click Here For Directions
10121 SE Sunnyside Road,
3 Town Center Suite 208
Clackamas, OR 97015

Call Us
Office: 503-794-0103
Fax: 503-794-0104