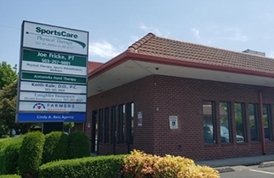 NE Portland SportsCare / Armworks
10748 NE Halsey Street,
Portland, OR 97220
contactneportland@sportscarept.net
contact@armworks.net
We help with…
Aches & Pain
Car Accident Injuries
Work Injuries
Sports Injuries
Certified Hand Therapy
Custom Splinting
Blood Flow Restriction Therapy
Highlighted Services
Back Pain Relief: Low Back Pain
Some of the more common causes of low back pain include:
Muscle strain from overuse
Poor techniques used when lifting
Traumatic Injury (i.e. auto accidents)
Maintain in-season muscle mass and strength for athletes
Lack of strength and conditioning due to inactivity (i.e. sitting too much)
A thorough Physical Therapy evaluation by a Sportscare Physical Therapist will provide you with a proper course of treatment to alleviate your discomfort and manage your pain. Typical treatment plans include the following: Manual Therapy includes soft tissue mobilization for tight or stiff muscles, joint mobilizations, low back adjustment, strain/counter strain techniques and instrument-assisted soft tissue mobilization via the Graston Technique. Posture and Lifting Mechanics. This involves one-on-one therapist/patient assessment of gross and specific movement patterns followed with correction, education and proper training. Therapeutic Exercise often includes a home exercise program and an in-clinic exercise program to focus on improving lower extremity flexibility, lumbar core stabilization and functional strengthening. Contact your nearest SportsCare Physical Therapy Clinic today to schedule an evaluation.
Same Day Splint Service: Performed by Certified Hand Therapist
Wrist, thumb or finger pain is a common problem after an injury. People often turn to bracing to help reduce swelling or pain and allow an injury to rest and heal. With the loads of braces out there, it is often hard to know if you can get by with an off-the-shelf brace or if you need custom splinting. Therapists at Armworks Hand Therapy can help you get the best fitting brace for your injury. There are essentially two types of splints: Pre-fabricated and Custom. A pre-fabricated splint is one made to be used for general injuries/ problems and usually come in a small, medium, or large size. A pre-fabricated splint can be very helpful but is not always the right size or does not come in the proper position for certain problems. Often, a custom splint is helpful. A custom splint is made to fit just you. It is made from a low temperature plastic and formed right in the clinic. If you have questions about splinting for the elbow, wrist, or hand, contact us at Armworks Hand Therapy for an evaluation.

What Our NE Portland Patients Are Saying …about NE Portland SportsCare Physical Therapy and NE Portland Armworks Services from our online reviews
[testimonial_listspage_neportland limit=4]
Photos NE Portland SportsCare – Armworks
[loc-gallery columns="1″ link="file" size="full" ids="1920,1923,1921,1922,1924,1925,1926″]