Orthopedic & Sports Physical Therapy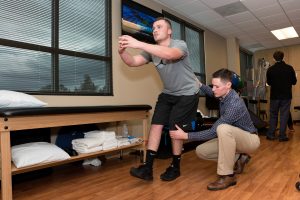 At SportsCare Physical Therapy we pride ourselves on the ability to treat injured athletes of all ages and levels of competition. Your comprehensive care begins with an in depth examination and evaluation during your first visit. We not only evaluate the injured body part(s), but also take into account the tasks and demands specific to your athletic activity. From here we assess current condition and select appropriate exercise and stretches according to your goals. Following the evaluation our providers will see you periodically in clinic and provide home programs to facilitate progress until no further sports physical therapy is needed.
In 2006 we took our dedication to sport physical therapy a step further by becoming one of the first Physical Therapy businesses in the Portland area to incorporate Athletic Trainers into our office locations and surrounding High Schools. This allows us to monitor and treat our athletes at school related athletic events as they return to sport allowing for a more holistic approach than traditional models and "cookie cutter" programs.
When is Sports Physical Therapy needed?
When people participate in sports it is normal to experience some bumps and bruises along the way, but when is Sports Physical Therapy required? When a injury prevents return to sport, or begins to make activities of daily living difficult or painful, Sports Physical Therapy may be indicated. Sports Physical Therapy refers to a more aggressive and progressive rehabilitation style allowing an injured athlete to safely return to play sooner than traditional physical therapy. At SportsCare Physical therapy we have structured our business around the specific needs of athletes.
Why should I choose SportsCare Physical therapy?

At SportsCare Physical Therapy we make sure our athletes receive the highest possible quality of care translating to a quicker rehabilitation process and safe return to sport. Our staff is designed to fit the needs of athletes and active individuals. The therapists at SportsCare Physical Therapy are experts in accelerated return to athletic participation. We work with a team of Orthopedic physicians who can provide immediate diagnosis and imaging if necessary. Our team of Certified Athletic Trainers (ATC's) have years of experience in immediate care and treatment of athletes and sports related injuries. By working with these professionals we are able to design a progressive rehabilitation program specifically tailored to the demands of each athlete and their chosen sport.
In addition to our specialized team of providers, SportsCare Physical Therapy offers some of the most advanced treatment equipment and modalities used by elite athletes, including the AlterG Anti-Gravity Treadmill, NormaTec Pulse Recovery System and Game Ready Cold Therapy Compression. These modalities help speed recovery and return athletes to the highest levels of competition.
Whether you are a weekend athlete or a professional, SportsCare has the expertise to get you back as soon as possible. Give one of our clinics a call to set up an appointment today! Call one of our convenient locations to set up an appointment or Request an Appointment Online.