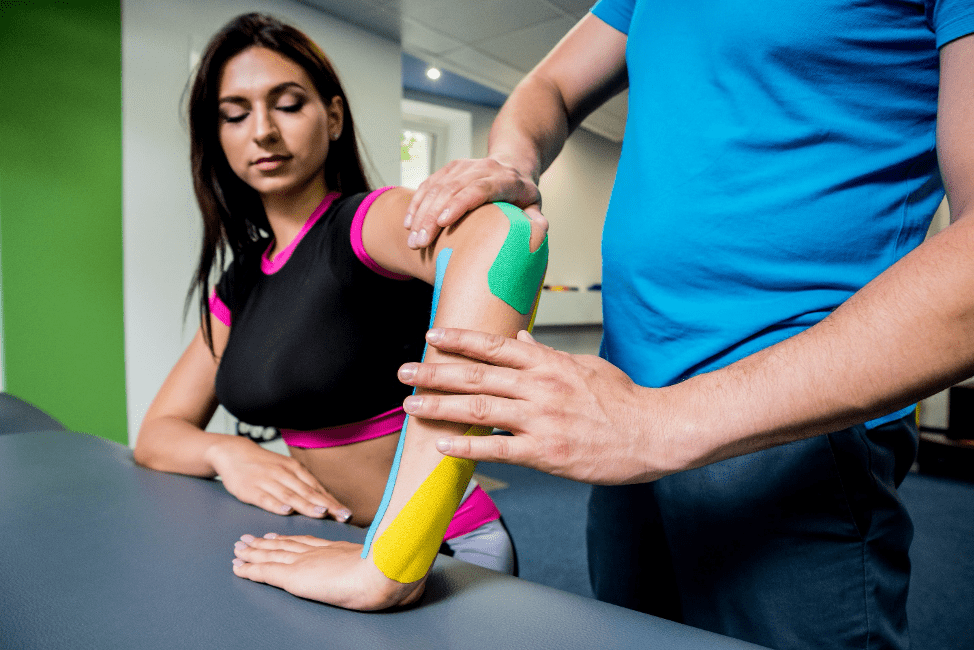 Kinesiology tape was designed to provide continued treatment between therapy visits. It is believed to relieve pain, support weak or injured tissues, inhibit overactive muscles, excite underactive muscles, help manage scars, and reduce swelling.
Frequently asked questions:
How does it help with arm pain?
Tape can help relieve pressure on the muscle by decreasing the force placed on it during movement, which can help the muscle relax.
The tape can help support & protect injured ligaments & tendons as they heal.
How can it help me move better?
By creating friction on the skin during movement, the tape can help to loosen the tension/restrictions around the muscle as the tissue remodels.
The tape can also create balance between opposing muscles.
How long do I leave it on? Can I shower?
Wear the tape for 3-5 days
You can shower with the tape on. Be sure to wash the area gently (don't scrub) & pat the area dry (don't rub). It may take 20 minutes or so to fully dry.
To remove the tape, pull it in the direction of your hair growth. You can also soak the tape in water before removing.
What if I'm sensitive to adhesives & I have a reaction?
Notify your therapist prior to getting taped if you already know you're sensitive to adhesives.
If you have not had any previous reactions to adhesives, but experience redness or itchiness after the Kinesiology tape is applied, remove the tape immediately & wash the area with a mild soap.
Not all tapes are created equal. Some brand's adhesives are more irritating to the skin than others.
What common problems that cause arm pain can Kinesiology tape be used for?
Tennis elbow/Golfer's elbow
DeQuervain's tenosynovitis
Ligament sprains & muscle strains
Scar tissue/adhesions
Swelling
Joint laxity
If you have any questions about Kinesiology tape,
give one of our offices a call
. The staff at Armworks Hand Therapy is well trained in the application of Kinesiology tape and can help you with all your elbow, wrist and hand needs.