Physical Therapists and Certified Hand Therapists play a vital role in helping patients recover from accidents, injuries, and other health-related conditions. Both professional groups have extensive education and training in body mechanics and rehabilitation, giving patients the resources to manage a myriad of orthopedic injuries safely and effectively.
Although there are many similarities, there are also several differences between the two. Below you will learn how Hand Therapy is different from general Physical Therapy.
Education and Training
Physical Therapists and Hand Therapists must complete advanced educational programs and pass national exams prior to becoming licensed in their field. While Physical Therapists earn a degree in Physical Therapy, Hand Therapists generally begin as Occupational Therapists before focusing all attention on the upper extremity.
After three years and 4,000 hours of practicing hand therapy, Armworks therapists are encouraged to sit for the Certified Hand Therapist exam. This additional certification shows advanced knowledge and skills in treating the elbow, wrist, and hand, setting them apart from their competition.
Armworks Hand Therapy employs Certified Hand Therapists in each of its five locations.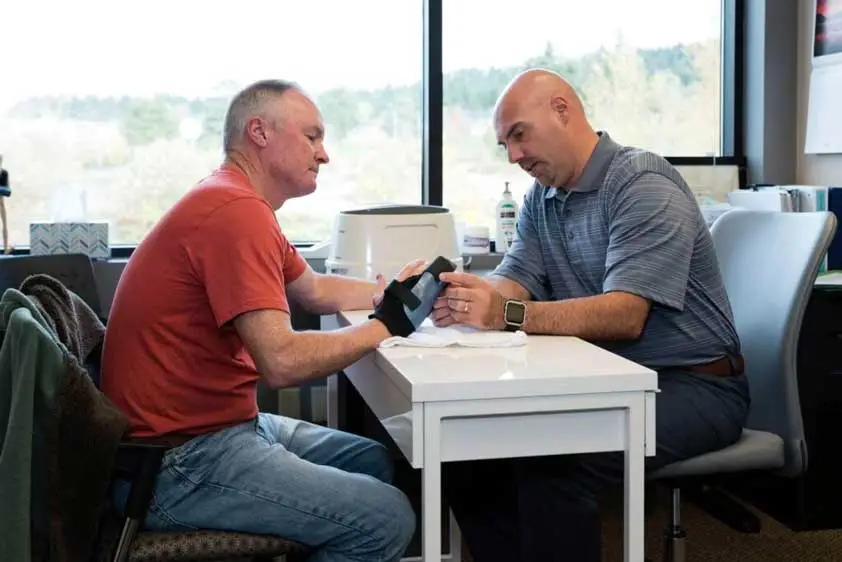 Primary Focus
Both Physical Therapists and Hand Therapists treat issues caused by diseases, conditions, or trauma. Physical therapy focuses on movement, pain relief and regaining the ability to actively participate in given activities. Hand Therapists typically focus on restoring function in a patient's daily life, as well as reducing pain. SportsCare employs Physical Therapists that focus on all areas of the body excluding the elbows, hands, and wrists.
Armworks Hand Therapy employs Hand Therapists, who specifically work with the elbow, wrist, or hand.
Treatment Approach
Physical Therapists meet with patients and consider their symptoms, ailments, and other medical histories (such as chart notes/referrals from a surgeon) to develop a treatment plan to reach rehabilitation goals. Hand therapists begin treatment with patients this same way.
Both SportsCare and Armworks use a variety of techniques and treatments in therapy. They also both educate their patients on an overview of the healing process, the expected timeline, and how to prevent regression/reinjury.
Since issues with the hand and upper extremities can be especially complex, seeking treatment with a specialist (Certified Hand Therapist) improves the odds of positive recovery. Many of the cases Armworks treats require specific (and time-sensitive) interventions.
Common Injuries HAND THERAPISTS Treat
Post-surgical recovery for elbows, wrists, or hands
Motor Vehicle Accident recovery for elbows, wrists, or hands
Worker Injury Accidents recovery for elbows, wrists, or hands
Sprains, dislocations, and fractures of the elbows, wrists, or hands
Hand/Upper Extremity Sports Injuries
Carpal Tunnel
Cubital Tunnel Syndrome
Elbow and/or Wrist tendonitis
Thumb arthritis
Trigger finger
Hand pain
Tendon lacerations in the hands and arms
Finger amputations
Treatment: Tools and Techniques
Both Armworks Hand Therapy and SportsCare Physical Therapy use:
Manual Therapy
Massage
Heat/Cold Therapy
Graston/ASTYM
Ultrasound
TENS/IFC
Low-Level Light Laser Therapy
Kinesiotape
Joint Mobilization
Scar Mobilization
Individualized Progressive Exercise Programs (for in-clinic and at home)
Armworks Only:
Paraffin Wax
Custom Orthotic Splinting
Fluidotherapy
SportsCare Only:
Unweighted Treadmill System
For general physical therapy concerns, please contact SportsCare Physical Therapy.
If you have a condition affecting your elbow, wrist, or hand, an evaluation with Armworks may be beneficial to you.
Armworks Hand Therapy and SportsCare Physical Therapy locations can be reached by phone or by requesting an appointment online.