Car Accident Physical Therapy and Treatment, Motor Vehicle Accidents
Auto Accident Physical Therapy
If you have been in a car accident, no matter how minor or who is at fault, seek immediate care from a MD, DO or Nurse Practitioner.  These doctors have the best skills to make a thorough diagnosis and order any necessary diagnostic testing.  Your pain may not present itself immediately, so do not downplay the seriousness of your accident. It is common for pain to appear as many as 2-3 days later!
If your physician wants you to begin therapy, by law, you can see the Physical Therapist or Hand Therapist of your choice. SportsCare Physical Therapy and Armworks Hand Therapy are experts in treating musculoskeletal injuries – the most common types of injuries which occur during a car accident.  We will work with your doctor to make sure you receive the best care available!
We will help you return to the activities & hobbies you love!
SportsCare and Armworks have convenient locations near you. Call us to schedule an appointment or Request an Appointment Online today.
Common car accident injuries we treat:
Whiplash: Whiplash is the most common injury to occur during a car accident.  The sudden whipping motion of the spine causes pain, stiffness, headaches, sleep disturbances, difficulty focusing on mental tasks, sensory disturbances, feelings of distress and anxiety.
Dizziness: Feeling unstable and having difficulty balancing. Dizziness may also cause vision disturbances including difficulty seeing straight, loss of eye focus, and blurred vision.  Nausea may also be present with extreme dizziness.
Headaches: Headaches can be located on the front, side or back of the head.  Pain can be constant or intermittent.  Light or noise sensitivity may sometimes instigate or worsen headaches.
Neck and Back Pain: Car accidents do not just cause neck pain.  Middle and Low Back pain are very common after a car accident.
Loss of Function: Significant pain may inhibit your ability to work or complete household activities.  Difficulty concentrating and focusing on a task may also impede your work progress.
Concussion: You do not have to lose consciousness to have suffered a concussion.  Many of the above symptoms occur with a concussion, including others such as vomiting and sensitivity to noise and light.
Shoulder Pain: The seatbelt cutting across your shoulder and upper chest can cause bruising, injury to the Rotator Cuff or Labrum and possible shoulder subluxation.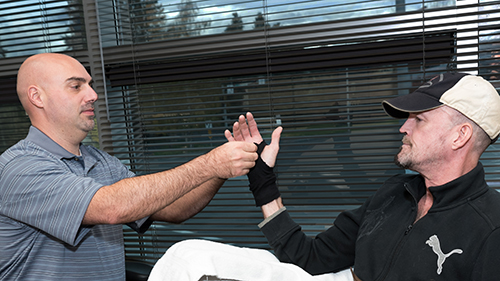 Knee, Ankle and Foot Injuries: Severe knee, ankle and foot joint, cartilage and ligament injury can occur if your knees strike the dashboard or if your foot is "jammed" into the floor or pedal.  Swelling may or may not occur, but lack of swelling does not mean you do not have an injury.
Elbow, Wrist and Hand Injuries: During collision, it is common for you to grip the steering wheel or brace yourself against the dashboard to create a barrier of protection. Many times, this leads to more severe injury including fractures and dislocations.
Remember… Neck pain, headaches, symptoms of a concussion, mid and low back pain, shoulder, elbow, wrist or hand pain may not begin immediately after the accident but may take 2-3 days to appear!  Do not ignore these symptoms!  Seek immediate medical attention, and when appropriate, choose SportsCare Physical Therapy or Armworks Hand Therapy for the best care available!