What We Treat
SportsCare and Armworks treat a variety of issues related to injuries throughout the body. Our passionate team of Physical Therapists and Certified Hand Therapists are dedicated to helping you recover from Work Injuries, Motor Vehicle Accidents, General Accidents, and Sports Traumas. Our team also has extensive experience treating Pre and Post-Surgical cases, as well as the aches and pains that may come along with chronic issues. See the categories below for examples of some the conditions we treat:
Neck and Back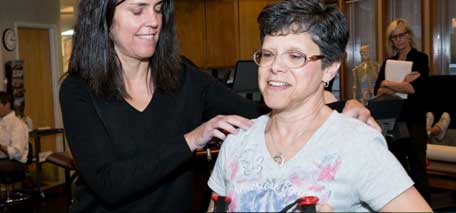 At SportsCare Physical Therapy, we treat patients with neck and back pain resulting from a variety of onsets. Most commonly, patients visit us for whiplash after a motor vehicle accident, age related arthritis, degenerative disc problems and/or issues stemming from poor posture. We treat the muscles, ligaments, tendons and joints through techniques including adjustment/manipulation, massage, exercise, postural and ergonomic training, and modalities. Conditioning the surrounding musculature will assist your neck and back in preventing recurrence of symptoms, which is a large focus of our treatment for your conditions.
Shoulder, Hip and Knee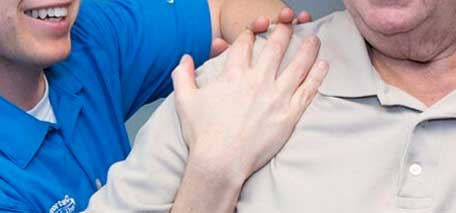 SportsCare is a full service physical therapy clinic. We treat everything from head to toe and specialize in many joints including the shoulder, hip and knee. If you have acute or chronic aches or pain, or are a post-surgical hip replacement, anterior cruciate ligament (ACL) reconstruction or rotator cuff repair patient, we have a therapist who is ready to help you get back to full strength and function. We achieve our excellent outcomes by using the latest protocols and procedures to effectively and efficiently guide you to success. To support our therapists already strong manual skills, SportsCare utilizes advanced treatment modalities including the AlterG Anti-Gravity Treadmill, Normatec Pulse Compression and Blood Flow Restriction Training to give you the upper hand in your recovery.
Elbow, Wrist and Hand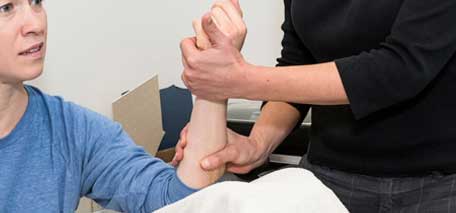 Armworks Hand Therapy partnered with SportsCare to provide all patients with a comprehensive treatment approach. Armworks has an advanced staff of Certified Hand Therapists who specialize in treating injuries at the elbow, wrist and hand. We treat injuries that are both traumatic and overuse in nature, including fractures, dislocations, muscle strains, ligament strains and tendonitis (tennis elbow). For many of these injuries, treatments and education on activity modification will generate results. In other cases, custom splinting for protection and proper healing is necessary – which we take care of in office. Trust your elbow, wrist or hand rehabilitation with our certified professionals!
Foot and Ankle
The body is a series of joints which have direct impact on one another. The foot and ankle, being the first along the chain, have a major impact on everything above them. Knee, hip, back, and even shoulder pain may be caused by structural abnormalities or injuries occurring at the foot and ankle. Physical Therapists at SportsCare recognize the serious implications these joints have on the rest of the body. We treat a variety of injuries including Achilles tendon ruptures, plantar fasciitis, and ankle sprains. We also rehabilitate post-surgical joint replacements fracture healing. We will work with you to full function through a series of strength, balance, agility exercises, getting you back to sports, work or everyday life.
Custom Splinting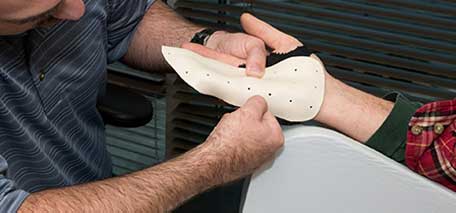 Armworks Hand Therapy recognizes the need for immediate custom splinting to promote injury protection, healing and pain reduction – that is why we offer same day splinting in each of our five locations! Do not wait to seek help regarding problems you may be experiencing at your elbow, wrist or hand. Too often, injuries to your upper limb get overlooked and/or played down, when in fact they may become limb or life altering. Giving these injuries proper attention early and often will shorten your recovery time, saving your money, time and stress. Armworks understands the importance of early splinting so not only do we offer same day custom splinting, we accept walk-in patients as well.
Pre and Post-Surgical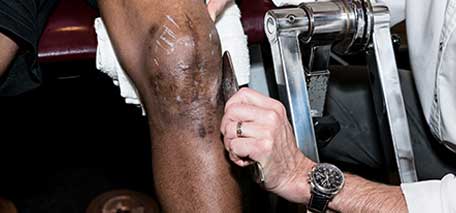 SportsCare and Armworks work with a network of area physicians and surgeons to help you prepare for then recover from surgery. Prehab, or pre-surgery rehabilitation, primes your body for surgery and the therapy which is to occur shortly after. It is understood that the stronger you are going into surgery, the easier and quicker the recovery will be following, both mentally and physically. Before surgery we work on reducing pain and swelling and increasing range of motion and strength, within safe parameters. Post-surgery follows a similar plan, but goes further to involve power, agility, balance and speed until you are strong enough for sports performance or everyday life. All therapists at SportsCare and Armworks are motivated to help you reach your pre and post-surgical goals.
Adjustment and Manipulation
The therapists at SportsCare have received specialized training to perform spinal manipulations or adjustments. Often viewed as a quick fix by the public, these manipulations are actually a supplemental treatment which yield best results when performed in conjunction with an appropriate therapeutic exercise program. If you are experiencing neck pain or stiffness, headaches or mid to low back pain as the result of a motor vehicle accident or other mechanism, you are the ideal patient for this treatment. Our therapists are sensitive to the fact this may be a scary adventure for you so each one approaches the technique when you are ready and comfortable.
Headache and TMJ Pain
Headaches have multiple origins and may be the resulting symptom of concussions, stress, muscle tension or immobile vertebral joints. The SportsCare Physical Therapists will begin with a detailed evaluation to identify all contributing factors, then carefully create a treatment plan to manage and/or eliminate these issues. Treatment approaches may include postural education, spinal manipulations, or trigger point therapy. 
Temporomandibular Joint (TMJ) pain can be treated at any of our six SportsCare clinics. We use a wide variety of modalities to reduce pain and inflammation, as well as teach you how to avoid further discomfort with simple mechanical changes.
Balance and Dizziness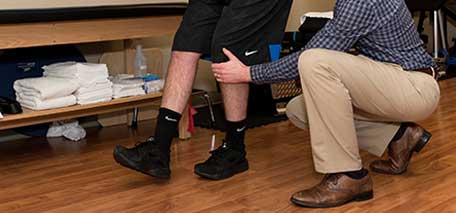 Through a progressive vestibular training program, our therapists work with your balance and dizziness disorders. Exercises are designed to train for compensation, allowing your body to recognize and adapt to disturbances in elevation and vision for better coordination and dual task performance. Fall prevention is very important for special populations. We work with you to identify dangerous positions and situations to avoid, or how to best maneuver within them. You will apply your stationary cues to our GAIT training which will encourage multi-surface confidence. When finished with our programs, you will feel in control of your body once again.
If you have any questions or are ready to schedule, please contact one of our offices. We look forward to hearing from you!