Pre- and Post-Surgical Rehabilitation Services
Physical and Hand Therapy, Before AND After Surgery
Anticipating an upcoming orthopedic surgery? Preparing to recover from one? Physical Therapy is generally expected after neck, back, shoulder, hip, knee, ankle, or foot operations to ensure optimal recovery. Surgical procedures related to the elbows, wrists and hands typically require treatment from a Certified Hand Therapist. SportsCare and Armworks provide rehabilitation both before AND after surgery.
Benefits of Pre-Surgical Rehabilitation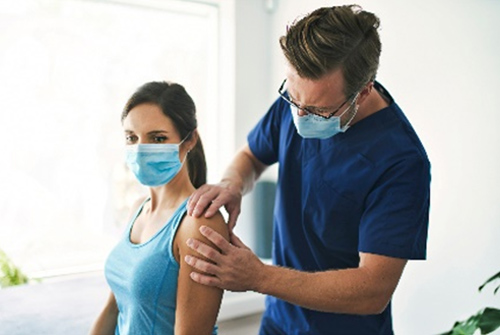 Establish baseline function with therapist
Gain insight of recovery process/expected outcomes
Minimize pre and post-operative pain and swelling
Restore/maintain strength and motion
Improve general health and wellness
Shorter recovery timeline after surgery
While many are familiar with the necessity of rehabilitation treatment after an orthopedic procedure, there are also many benefits of Pre-Surgical Therapy or "Prehab" that takes place before the operation. Prehabilitation allows for a shorter and more successful recovery.
Benefits of Post-Surgical Rehabilitation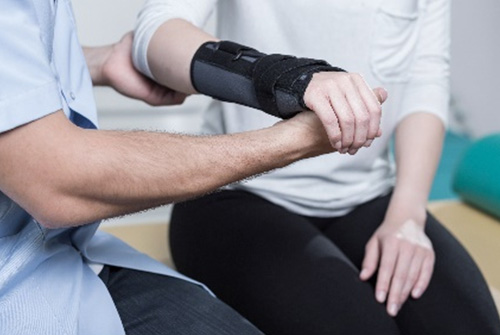 Ensure repairs made in surgery heal properly
Reduce pain and swelling
Improve blood circulation/promote self-healing
Regain motion, strength, stability and endurance
Safely return to normal activities
Prevent further or future injury
Common Pre and Post-Surgical Cases We Treat:
Elbow, Wrist, Hand: Total Elbow Arthroplasty or Replacement, Synovectomy, or Debridement; Ligament reconstruction, Tendon repair, Wrist Fusion, Carpal tunnel release, Dupuytren's contracture fasciectomy, Trigger finger release, Knuckle (MCP joint) replacement.
Back/Neck: Spinal/Cervical fusion, Laminectomy (removal of part of vertebrae), Discectomy (removal of lumbar herniated disk material), Artificial disk replacement, and more.
Shoulder: Rotator Cuff Repairs, and Arthroscopy for Impingement Syndrome, Slap Repairs, Shoulder Dislocation, and Frozen shoulder replacement.
Hip: Total hip replacement, Partial hip replacement, Hip resurfacing.
Knee: Total Ankle Replacements (TAR) Surgery, Partial/Total Knee Replacements, ACL surgery, Meniscus Repair, Osteotomy Knee Surgery, Knee Revision Surgery, and Removal of cartilage or synovial (connective) tissue.
Feet/Ankle: Reconstructive Foot/Ankle Surgery, Foot/Ankle Fracture Surgery, Osteochondral Surgery, Bunion Surgery, Achilles Tendon Repair, Fusion Surgery, Metatarsal Surgery, Morton's Neuroma Surgery, Toe Deformity Correction Surgery.
When Should I Schedule Therapy?
Post-Surgical rehabilitation may begin soon after the operation or it may require a short period of immobilization. SportsCare and Armworks follows the recommendations of the surgeon, frequently communicating progress with the medical team.
Once a patient is cleared to begin treatment, the therapist will perform a thorough evaluation. Taking into consideration the patient's pre-injury ability and activity levels, they will develop a comprehensive treatment plan and discuss the desired outcomes of rehabilitation.
As the patient advances through therapy, activities will become progressively more challenging to increase range of motion, build strength, and increase endurance. The therapist will utilize a variety of techniques including Custom Splinting (when applicable), Manual Therapy, Modalities, and Strength/Flexibility Training. Throughout therapy, ultra-modern recovery systems may be incorporated, such as, Alter-G, Unweighted Treadmill System and/or Pool Therapy. As part of an aftercare plan, the therapist will also design a detailed Home Exercise Program to continue gains made in treatment.
SportsCare Physical Therapy and Armworks Hand Therapy are top choices for both Pre and Post-Surgical Rehabilitation. If you have a question regarding your therapy for an upcoming surgery, feel free to call us.
Ready to schedule? We have convenient locations near you. Call us to set up an evaluation or Request an Appointment Online today.