What is it?
At SportsCare, our Physical Therapists work with athletes of all ages, abilities and competitive levels. Sports Physical Therapy describes the rehabilitation of acute, chronic or repetitive athletic injuries, as well as preventing future injuries and helping athletes achieve their sports performance goals. Taking into account the tasks and demands of your athletic activity, SportsCare Physical Therapists assess your mobility, strength, balance, and coordination. If needed, they may evaluate your ability to pass a sport-specific test indicating your safety and preparedness for return to play.
Common Sports Injuries:
Sports Physical Therapy helps athletes recover from acute, chronic, and repetitive injuries caused by numerous sports or athletic activities including but not limited to:
Ligament sprains or tears (commonly ACL, MCL, LCL, PCL, or MPFL)
Tendonitis (commonly achilles, patellar, bicipital, and rotator cuff)
Muscle strains
Labrum tear of shoulder or hip
Meniscus tear
Chondromalacia (patellofemoral knee pain)
Shin splints
Fractures
Bone bruise
Pre/post surgical injury resulting from sports injuries
Improved Sports Performance:
SportsCare Physical Therapists help athletes achieve their sports performance goals:
Training to increase speed, endurance and strength
Improvement of balance and agility
Improvement of range of motion and flexibility
Progressive, individualized performance training plan
Sports-specific conditioning
Sport reintegration
Education for injury prevention
Treatment
Sports Physical Therapy is not only needed for injured athletes, but also aids in achieving top performance and sports injury prevention:
Therapeutic Exercises
Manual Therapy
Treatment/instructions to reduce inflammation
Intermittent Compression with Cold (Game Ready and Normatec

)

Modalities (Ultrasound, Ice/Heat, Electrical Stimulation)
Speed, Endurance, Strength Training
Kinesio Tape
Extracorporeal shockwave therapy
Progressive, individualized training plan to meet short-term and long-term performance goals
Education for injury prevention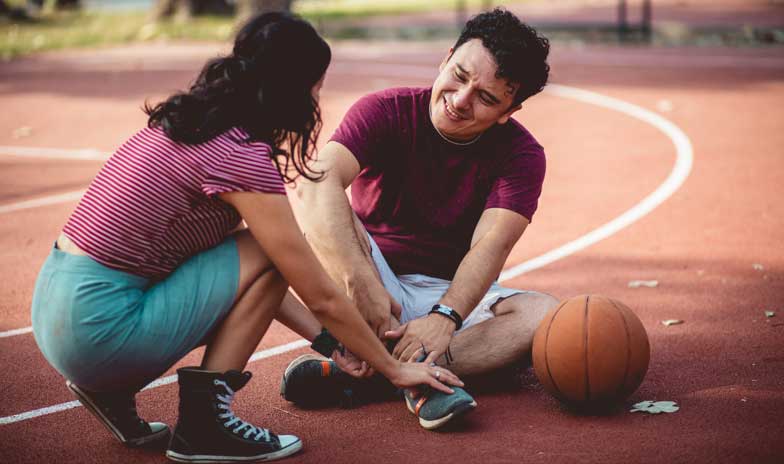 Basketball is the sport with the highest number of injuries each year with almost 500,000 injuries annually.
Frequently Asked Questions
How will my sports injury symptoms resolve?
When should I seek Sports Therapy Treatment?
How long will Sports Therapy typically last?
When can I return to playing sports after a sports injury?
Does SportsCare take my insurance?
Where is SportsCare located?