Kylie Crawford, PTA – Gresham SportsCare PT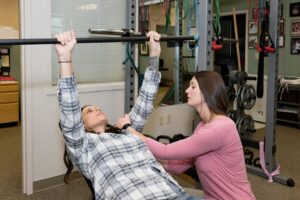 A Physical Therapist Assistant (PTA) works under the supervision and within the plan of care established by the Physical Therapist (PT). They assist in treatment of those with health-related issues to improve functional and daily activities. Physical Therapist Assistants can work in a variety of settings from hospitals to schools and provide patient education, exercises, pain management, daily activity modification and much more.
There are only two Physical Therapist Assistant programs in Oregon – Mt. Hood Community College in Gresham and Lane Community College in Eugene. Both programs are accredited by the Oregon Physical Therapist Licensing Board (OPTLB) and offer a two-year Associates of Applied Science degree. Eligibility for enrollment into PTA school includes educational pre-requisites and observation experience. Each PTA program has its own varied curriculum, but all require an on-site clinical rotation. These valuable, hands-on clinical hours (both before application and throughout didactic career) play a large role in allowing students to develop and perfect specific therapeutic skills needed to safely and effectively treat a patient.
Differences Between PTs and PTAs
The job of a PTA is similar to that of a PT, with some main differences being:
1) Physical Therapists attend 3 years of PT school (after a four-year bachelor's degree) and receives a Doctorate of Physical Therapy
2) Physical Therapists are responsible for communication with the referring medical doctor via the initial evaluation, progress notes and discharge summary
3) Physical Therapists establish the patient plan of care in which a PTA is to follow during subsequent visits
With a good working relationship, the PT and PTA are able to seamlessly work as a team to progress a patient in their recovery with a healthy variation in ideas and techniques. Providing the opportunity for patients to schedule alternating appointments between our PTs and PTAs allows them to be seen more frequently, which leads to shorter recovery times.
If you are interested in PTA school, we encourage you to look into one of the above-mentioned programs. If you have questions about the profession, feel free to leave one in the comments section below and we will do our best to respond quickly.