SportsCare Physical Therapy and Armworks Hand Therapy are BETTER TOGETHER
SportsCare and Armworks – Better Together
Working as partners to provide the best rehabilitation possible. Armworks provides the highest quality patient experience working on injuries of the elbow, wrist, and hand. SportsCare offers comprehensive physical therapy, treating everything else from head to toe. SportsCare and Armworks are 100% locally owned and operated private practices that value giving patients one-on-one attention and customized programs for successful outcomes.
Armworks – Let Our Experts Handle It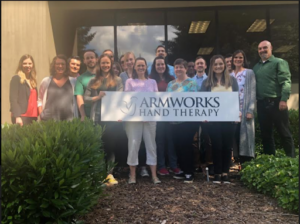 If you have an elbow, wrist, or hand injury; you want to be in the best "hands" possible. Armworks Hand Therapy offers specialized therapy to these complex areas at all of our clinic locations. The Armworks team also includes Certified Hand Therapists (CHT's). These are occupational or physical therapists that earned this high level of specialization after working for a minimum of 3 years and working 4,000 hours on elbows, wrists, and hands. Your Armworks therapists will educate, guide and coach you through your therapy process to give you the most positive patient experience you could ask for.
SportsCare – We've Got the Rest Covered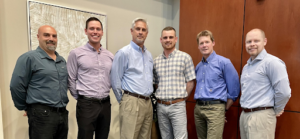 SportsCare Physical Therapy provides the ultimate rehabilitation services for the remaining areas including the shoulders, spine, hips, knees and feet. Using a combination of traditional manual therapy, therapeutic exercise, modalities, and incorporating ultra-modern recovery systems; we design patient-focused recovery plans that work. We also provide Blood Flow Restriction Therapy, Pool Therapy, Pelvic Floor Therapy, Alter-G, and Weightless Treadmill Systems. SportsCare delivers the ideal PT experience that is effective, educational and rewarding.
Why choose SportsCare and Armworks?
Therapists that specialize in your specific area of injury
Friendly office staff, coordinating benefits to be used at SportsCare, Armworks, or both
Privately-owned practices in the local community for decades
Accepts ALL MVA plans, ALL Work Comp insurances, ALL MCO plans, and (virtually all) major insurance plans
Prompt scheduling with flexible appointment times
6 convenient locations near you
SportsCare and Armworks – A Combined Mission
SportsCare and Armworks share the same priority – THE PATIENT! We partner with each individual to achieve the ultimate outcome – return them to work, sports, and everyday activities as soon as safely possible. Our skilled therapists are driven to help our patients succeed, while making rehabilitation a fun and rewarding process.
Ready to get started with SportsCare or Armworks? Contact one of our locations or request an appointment online to set up an evaluation.