In Memoriam: Clem Eischen
SportsCare Founder, Professional Pioneer and Community Partner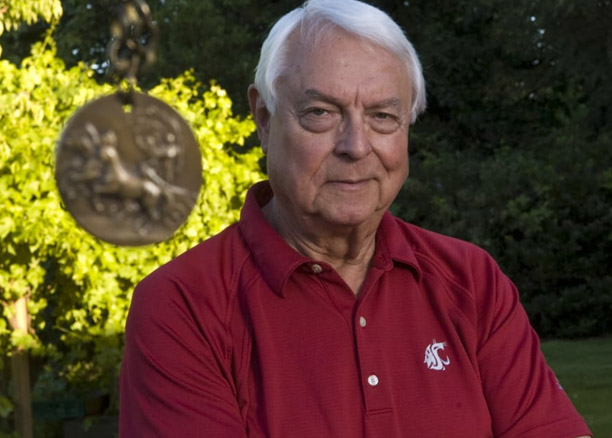 Clement George Eischen Dec. 24, 1926 – Dec. 7, 2020
Clem Eischen passed peacefully at home Monday, Dec. 7, 2020, with his beloved wife at his side.
He was born in Adams County, Neb., attended a one room schoolhouse until his family moved to Vancouver, Wash., in 1943. As a young boy, he developed a passion for fishing that lasted a lifetime. Clem graduated from Fort Vancouver HS, where he was inducted into the Hall of Fame and later Washington State University. He was an All-American in track and competed in the 1948 Olympics in London. He taught biology at Shumway Jr HS and at Hudson's Bay HS. One of his fondest memories was coaching his track athletes to the state championship in 1961.
Nancy Lee Coleman won Clem's heart during a feisty date to Lake Washington and they wed in 1959. After teaching and coaching nine years, and with family in tow, Clem went back to graduate school at Stanford University and earned his Physical Therapy degree.
He established Lloyd Center Physical Therapy, SportsCare Physical Therapy, and served on the sports medicine staff in the 1996 summer Olympics in Atlanta. Clem was very active in his profession, won many awards, and was instrumental passing legislation in 1967 allowing reimbursement for services done by outpatient physical therapists. He was the 1985 Robert G. Dicus Award recipient; an award given to a therapist whose contributions at the regional and national level proved exceptional in value. Read his speech here.
Clem was upbeat, optimistic and he always had something nice to say about everybody. He was a terrific husband, father, grandfather, and he will be missed dearly. He was the first of a three-generation Physical Therapy family. His legacy and commitment to serving the community will live on through his son George and grandson Kevin.
Clem was preceded in death by his parents, Peter and Marie Miller Eischen; brother, Virgil and sister, Valeta Marie Eischen. He is survived by his wife, Nancy; sons, George and Chris; and daughter, Snowy Eischen, and their families.