Clackamas SportsCare Physical Therapy Services
Who We Are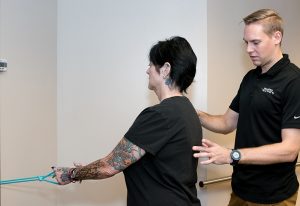 Clackamas SportsCare Physical Therapy is your trusted provider of patient-centered physical therapy services. Our compassionate licensed doctors of physical therapy provide the highest quality, skilled one-on-one care to our patients throughout the Clackamas County region. The SportsCare name has been a trusted name among patients and healthcare providers in the community for more than 50 years.
What We Do
Our greatest passion is helping our patients reach a sense of wellbeing through a personalized treatment plan that puts your unique needs first. Our greatest reward is seeing each patient achieve their treatment goals, restore full function and achieve a quality of life that is only possible when you're feeling your best.
Our Treatment Approach
Because you are unique, there is no cookie cutter approach to your care. Our treatment approach is simple: one-on-one focused rehabilitation between you and your physical therapist. Whether you're facing post-operative surgical rehabilitation, chronic pain, work or sports injury or a motor vehicle accident, our physical therapy treatment plan is based on the most current, evidence-based research tailored to your specific needs.
Team-Based Care
We have a longstanding, trusted working relationship with many local surgeons and healthcare providers throughout Clackamas County and the greater Portland area. We believe communication is key to the successful outcome of your treatment. Our team-based approach means working closely with your selected healthcare providers to ensure you are always at the center of your treatment plan.
Where We Are
Clackamas SportsCare is conveniently located off Sunnyside Road just off I-205 across from the Kaiser Permanente Hospital. We are located inside of the Three Town Center Building near Stevens Road. To speak to one of our therapists and start your treatments, call Clackamas SportsCare or schedule an appointment. Our convenient hours and timely appointment scheduling will ensure you are quickly back on the path to health and wellness.