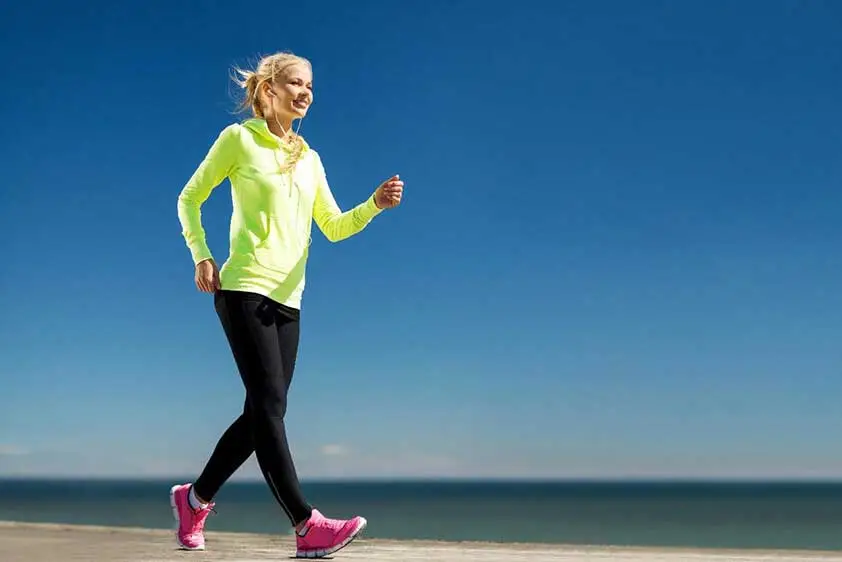 The American Heart Association recommends that you walk or perform moderate aerobic activity for a total of 150 minutes per week.
This is ideally spread throughout the week and can even be performed in shorter daily sessions. Walking is not only an exercise that keeps you healthy, but it is a free (and easy!) way to stay active.
Wondering exactly why walking is SO beneficial?
No need to "jog" your memory, we will help you STEP IT UP, and explain 10 WAYS Walking Keeps You Well.
#1 WALKING HELPS YOU FEEL GOOD
Walking (like other exercises) releases "feel good" chemicals – endorphins, dopamine, and serotonin. These chemicals trigger a feeling of well-being and happiness.
Walking can also give you a confidence boost. As your activity level increases, you will likely have more energy and be more motivated to accomplish other fitness or personal goals.
#2 IT LOWERS YOUR RISK OF DISEASE
According to the American Heart Association moderate exercise (including walking) reduces your risk of heart disease, type 2 diabetes, high blood pressure, and several types of cancer. It has also shown to reduce LDL or "bad" levels of cholesterol while increasing the HDL or "good" cholesterol levels.
#3 WALKING INCREASES YOUR LUNG FUNCTION
When you exercise, multiple areas of your body must work harder, including your lungs. Your muscles require more oxygen during activity and your body also produces more carbon dioxide that needs to be removed. This combination requires your lungs to work harder, and therefore become stronger, to perform this task.
As your fitness level improves, your body becomes more efficient at delivering oxygen/removing carbon dioxide and you are less likely to become out of breath while exercising.
#4 IT CAN HELP YOU STAY SOCIAL
Walking is an activity that is easy to do with others. It is free, can be done almost anywhere, at almost any time, and in almost any weather. Friends can meet for a leisurely stroll to catch up and chat, or STEP IT UP together on a more vigorous walk.
If you have a sedentary activity that includes friends (like a dinner or movie date), schedule a walk together before or after to stay active.
#5 YOU CAN START/CHALLENGE YOURSELF AT ANY LEVEL
Walking requires no gym membership, no special equipment, and can be started at any fitness level. Your body is probably used to at least some regular walking, so you likely will not have sore muscles the next day. You can challenge yourself by increasing your distance, your pace, or changing your route.
Walking uphill or upstairs really gives your glutes a workout, while walking on a decline is a great way to strengthen your quads. If you are interested in tracking your progress, most phones have free apps to display the stats of your walk.
#6 IT CAN IMPROVE YOUR DIGESTION
No surprise here, but movement gets things moving! As you exercise you are increasing the blood flow throughout your body – including to the muscles that aid in digestion.
These muscles become more efficient and begin to work more effectively. Walking also boosts your metabolism, helping your digestive system perform at its best.
#7 WALKING CAN IMPROVE YOUR EYE HEALTH
Walking (and other cardio) keeps your eyes healthy by increasing blood flow to your optic nerve and retina. This supplies the eyes with much-needed oxygen and reduces the risk of eye damage and eye disease. Walking also helps lower blood pressure and in turn lowers eye pressure, decreasing your risk of glaucoma (which is caused by high eye pressure).
#8 IT STRENGTHENS YOUR BONES, JOINTS, AND MUSCLES
As you walk or do other weight-bearing activities, your bones must work to support your weight. This strengthens your bones and prevents bone loss.
Walking increases blood flow and brings nutrients to the cartilage (or cushioned area) at the end of your joints, keeping them protected.
Movement also lubricates your joints, which reduces stiffness and pain. Walking tones the muscles in your legs, arms, and core. Depending on the intensity and frequency of your walks, it may also reduce your overall body fat.
#9 WALKING CAN HELP KEEP YOU SHARP
Research is showing the health benefits of walking and other aerobic exercise includes the prevention of early-onset dementia and a reduced risk of developing Alzheimer's disease, according to a recent study from the University of Wisconsin School of Medicine and Public Health. This is thought to be related to the correlation of exercise slowing the shrinkage of the hippocampus, the part of the brain responsible for memory.
#10 IT CAN REDUCE STRESS AND CALM YOUR MIND
Taking a walk not only provides you with "feel good" chemicals, but it can also clear your head and lower your stress. A change of scenery can stop a cycle of negative thought patterns, while fresh air and open space can help you feel less anxious. Walking is no-pressure, as you are not in a race or an exercise class.
You can set your own pace and take breaks when needed. Starting/continuing a walking routine may provide a sense of accomplishment. In turn, you may feel more motivated and less stressed!
If you have questions or concerns about reaching your own fitness goals or beginning treatment after an injury, contact SportsCare Physical Therapy today! All offices can be reached by phone or you can request an appointment online for an evaluation.